If you're reading this, you probably already know that there are a lot of craft and small breweries out there. Before the shutdowns and impacts of the coronavirus, which will undoubtedly affect breweries and other businesses in the long run, the U.S. had roughly 7,450 breweries and in Minnesota, where we're located, had roughly 172 breweries. That's a lot of beer for our country's citizens and visitors! We're lucky, but we're not the only ones enjoying this boom. Small batch and craft breweries have proliferated in the past decade. 
How much beer is too much beer? Some people say there's never too many breweries and taprooms, but if you're trying to rebrand or even open a brewery and cut through the suds for a share of people's thirst for craft beer, you'll need to do something to stand out. Keep reading for some essential brewery branding information to help you identify and refine your unique brand.
Who Are You? Who Are Your Customers?
To get started telling the story of your brewery and your beer, you have to figure out what that story is. You need more than a vague sense of why you started to brew and what makes your beer and your brewery special. It pays to sit down and brainstorm with your partners or your marketing team. Everyone will need to agree, so you should work together with all stakeholders from the start. 
Write down words that describe your brewery—and write down some words that don't! Do some homework and visit some local breweries and their websites and social media accounts. How are other people telling their stories? You should be able to find some examples of successful branding and storytelling, whether or not you like their beer or the brand identity they're selling. You will also likely encounter some breweries with brand identities that seem to lack focus or aim for something only to fall flat.
Obviously, you're not looking to take anyone else's ideas; you're there to get a feeling for what's possible. It wouldn't make sense to model your brewery's brand on another local brewhouse, anyway—because you need to figure out what you do that's different from everyone else.
During your initial research, think about who you want your customers to be. Who do you want to come to your brewery and drink your beer? You can't be all things to all people, and trying to be will only dilute your brand and its power. Don't be afraid to figure out who you're trying to appeal to and then speak directly to them. 
Schell's Beer, for example, has been around for over a hundred years and continues to find success across the state of Minnesota. Despite that success, they still call the small town of New Ulm home and stay true to their rural, rustic roots in their branding. Their logo, a large buck, meshes perfectly with their name's antique-style font and natural tones. While one could argue that Schell's is a big enough brewery to exceed one specific audience and simply gain traction on their name, their brand continues to adhere to the Minnesota small town, hunting and nature-loving culture of their immediate audience.The bottom line is that marketing your brewery will require some degree of figuring out who your target audience is and tailoring your messaging to them.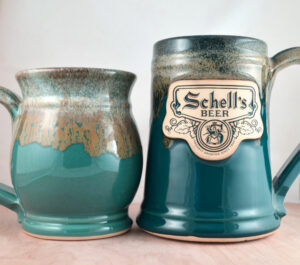 Position Your Brewery
As you develop your brand, keep a few things in mind to maintain a consistent message. Know who you are, and know your customers. Are you two college buddies who discovered Belgian sour beer on a European road trip, or do you really want to create a place for people to catch up over approachable pints while they play lawn games and watch sports? Picture the place. You already know the beer. Keep both in mind as you create your story.
Put Your Brand Out There
Once you've settled on the look and feel of your brewery brand, you need to put yourself in front of your potential customers. Create a website and social media presence. Try to update consistently and generate useful or entertaining content that your customers will enjoy. Send a regular—but not too frequent—email newsletter to customers whose contact information you can gather. Use it to highlight new beer releases, events, employees, beer industry tidbits, and more.  
Merchandise is an integral part of a business like a brewery. Consider selling an assortment of branded items that people will find attractive and useful. Hoodies, T-shirts, and hats are always a hit, especially if you've got an attractive logo to show off. 
Drinkware also makes a lot of sense for a brewpub or taproom, and there are a few ways to incorporate high quality, distinctive drinkware into your merchandise and taproom environment. Long-lasting stoneware steins tell your customers that you're interested in quality and willing to spend a little more for a branded item that will last. 
You can sell stoneware beer steins as part of your merchandise assortment, or create a mug club for regulars who purchase a stein as a membership "fee" and gain access to exclusive perks. Create limited-edition branded steins to celebrate and build excitement for special events such as opening the patio in the spring, dropping a new release, or celebrating especially beer-centric holidays like St. Patrick's Day. 
Maintain Consistency
Your brewery should have a distinctive look and feel, and your marketing should tell that story. Your merchandise, web presence, social media, and physical environment should be recognizable right away as your brand. 
Customers should never have to think about who this email is from or where the stein in a neighbor's hand came from: the continuity of your brand's look and feel should run through everything.
Quality Merchandising
Grey Fox Pottery is a small business with deep ties to the local economy—just like many small brewery operations—so we understand how important it is to get your branding right. Investing in quality branded merchandise tells your guests and brand cheerleaders that you value their patronage, that your beer is worth it, and that you intend to be around for a while. Take a look at our selection of quality stoneware steins, tankards, and other drinkware.
Grey Fox artisans work with you to create high-quality drinkware that looks and feels like it belongs in your brewery. Our small order minimum of just 48 pieces means you can dip a toe in the water without making a huge commitment. You can also order limited-edition stoneware steins to celebrate limited runs or seasonal events, creating a memento customers will take home and use to spread the word about your brewery. Get in touch with us today to talk about creating custom stoneware beer steins for your brewery. We can't wait to help you show off your brand!