Custom Military Coffee Mugs & Beer Steins
Your time together may be limited, but the bond you share will last forever.
To honor your service and unite your squad, or to commemorate the freedom earned by those who serve, custom military coffee mugs and custom military beer steins made from durable stoneware serve as a lasting keepsake that can be enjoyed every day. As a team building gift, the mugs can be customized to represent your squadron, brigade, company, battalion, regiment, branch, and more.
These military mugs and steins are handmade, built to last, and crafted right here in the USA. They're high-quality products made with genuine American craftsmanship.
Our military mugs and steins are handmade, built to last, and crafted right here in the USA. They're high-quality products made with genuine American craftsmanship.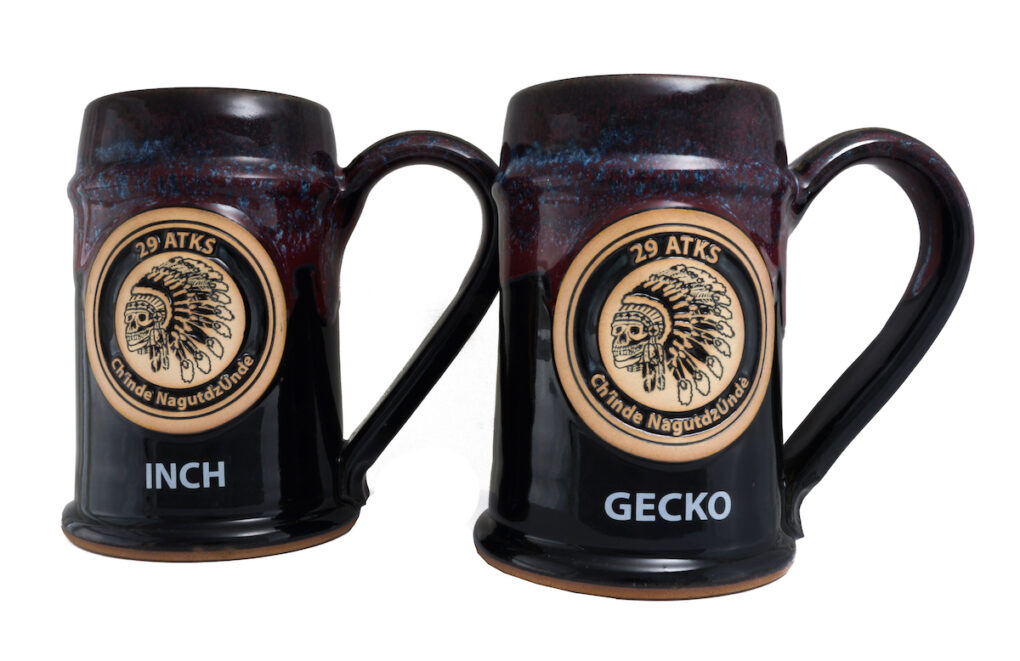 Customizable Decals Commemorate Your Service Together
With our customizable decals, you can include the recipient's call sign, rank, unit, company, brigade, division, battalion, squadron, wing, or service branch–you can even add their nicknames.
Speak with our design team to learn all of our military stoneware mugs customization options.
Custom Stoneware Military Unit Mugs For Special Occasions And Milestones
Stoneware mugs are a popular gift for military members for so many reasons. Stoneware mugs for military units are decorative, but they are also practical and can be used every day. They are resistant to chipping and scratching, and their durability holds up through every PCS and TDY move, ensuring they last a lifetime. They can also provide a touch of home comfort for military members who are away from loved ones.
Stoneware mugs are a wonderful way to show your thoughtful appreciation for their sacrifice, dedication, and service for our freedom. Not just extremely strong, our stoneware mugs are also very aesthetically pleasing. They can be used as a stunning display piece or as an everyday mug to remind them of that bond. Perfect for both active duty and veterans, we craft stoneware military mugs and steins for every branch of the service, including:
✮ Coast Guard
✮ National Guard
✮ Space Force
✮ Reserve Corps
We offer both custom military beer mugs and custom military coffee mugs like the one we made for the 92nd MP Battalion.
With a low minimum order quantity and no maximum, we make ordering custom coffee mugs and custom beer steins for your group, platoon, or infantry easy, even for small groups. Stoneware gifts are ideal for military retirements, promotion ceremonies, and memorials.
For over three decades, Grey Fox Pottery has been the most trusted source of military unit coffee mugs, military beer steins, and other custom military stoneware. Handmade in Minnesota and fired on-site, each piece is custom crafted by our artisan stoneware potters from start to finish. Our potters take immense pride in providing the highest quality stoneware gifts our heroes deserve.
Glazed to Perfection
Over 100 colors and color combos. The glaze used on all of our stoneware mugs and steins for military units is durable, lead-free, and completely food safe for everyday use.
View Glaze Colors
Frequently Asked Questions About Our Custom Military Mugs
How long does it take to get custom military mugs delivered?
Depending on the season, our lead time fluctuates, but usually around 8 weeks. If you have a special event, please contact us to determine if we can meet your needs.
Do you ship mugs internationally?
International shipping to service members is done through APO or FPO mail boxes and it works well in our experience.
Is there a minimum order for custom military mugs?
We offer a low minimum order quantity of 48 pieces.
Are the handmade mugs microwave and dishwasher safe?
Good news, our stoneware mugs are both dishwasher and microwave safe. If you've ordered cork pads for the bottoms of your mugs we recommend hand washing.