As a business owner, you probably take the integrity of your brand identity seriously – as well you should. If you're running a retail shop and considering selling branded products or you're the proprietor of an establishment that serves beverages, like a coffee shop, brewery taproom, or brewpub, you've probably wondered just what to put on your shelves or how to serve your customers a handcrafted coffee or a seasonal ale.
When it comes to branded merchandise or serving mugs or steins that you use every day at your counter, it can be confusing and even overwhelming to choose the right ones. Keep reading for a guide to stoneware that aims to answer some common questions so you can make a choice you feel good about.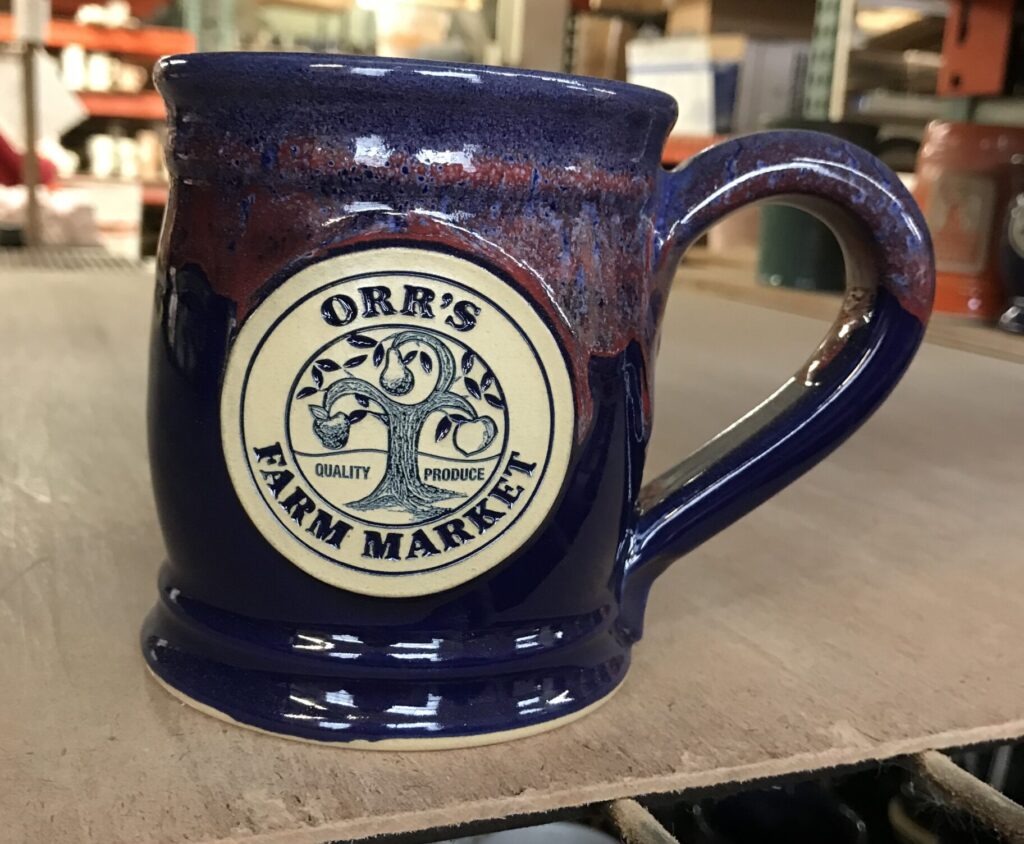 What is Stoneware?
Is stoneware ceramic? Is all ceramic stoneware? If you're not an artist who works in clay, it can be a little confusing. Ceramic is the general, more catch-all term for all types of pottery made with clay, including stoneware, porcelain, including bone china, and earthenware.
Stoneware, porcelain, and earthenware all have a different look and feel as well as differing durability. These differences come from the types of clay used along with the temperature and duration of the kiln firing that each undergoes.
Stoneware is kiln fired between 2000 and 2300 degrees and takes on a smooth, non-porous finish like stone, hence the name. Applying glaze is not necessary but the glassy surface makes mugs pretty and sanitary. Make sure any mug you buy is food safe and uses leadless glaze like Grey Fox Pottery.
How to Care for Stoneware
Stoneware is remarkably durable and easy to care for, making it an excellent choice for daily use in the kitchen or professional food service settings. Like all ceramic products, even stoneware will break if you drop it on a concrete floor, but with regular care, it could and should last long enough to be handed down as an heirloom.
Is Stoneware Microwave Safe?
Yes! Stoneware can be used in the microwave. Stoneware heats evenly so it can withstand a few rounds in the microwave if you keep forgetting to drink your coffee before it gets cold. Like anything you put in the microwave, check the handle before you take it out, as the hot liquid might heat up the stoneware as well.
How Should I Wash my Stoneware?
Stoneware itself is completely safe for the dishwasher. If you order a mug or stein with a cork pad or o-ring on the bottom, you may want to hand wash it to preserve the cork.
Will Stoneware Chip Easily?
Stoneware is very resistant to chipping and breaking. The glaze becomes part of the vessel during a kiln firing, so there is no chance of glaze chipping independently of the stoneware. If you order a custom stoneware mug or stein from Grey Fox Pottery, your logo medallion will also be rendered in clay and fired as part of the mug, so it will not break or chip away from the mug or stein.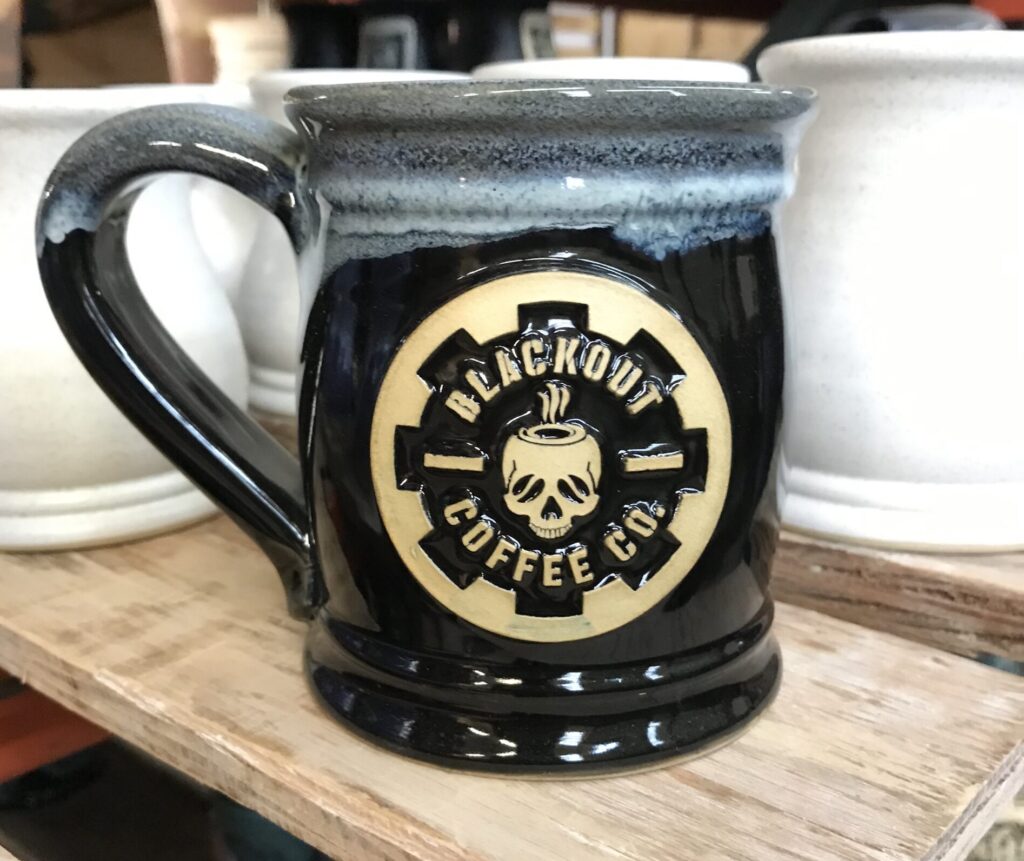 How Would My Logo Look on Stoneware?
At Grey Fox Pottery, we use the scrimshaw engraving technique to turn your logo art into a clay medallion that becomes part of your custom stoneware mug, stein, or tankard. Take a look at some examples to see the range of what's possible. From simple, bold lines to some pretty intricate and busy logos and everything you can envision in between, we can work with you to strike the perfect balance of art and brand identity.
Your logo medallion will become a part of the stoneware and won't wash away or fade over time. Rendering your logo in stoneware makes it substantial and tells your customers you're here to stay.
Stoneware mugs and steins from Grey Fox Pottery can also be ordered in a wide variety of sizes and shapes to suit your style or to suit the beer you brew or the Americanos you craft. Mugs and steins are available in sizes to hold from ten to 24 ounces.
Stoneware mugs can be further customized to suit your brand identity or style by choosing from glaze colors, finishes, and combinations that range from cheerful to serious or however you see your brand. Sixteen styles of beer steins are available – from a stoneware pint to the traditional Bavarian stein, whatever you need to suit your retail or service needs. Choose from twelve styles of stoneware mugs in varying sizes, some are perfect for drip coffee while others are just right for serving soup or a large cappuccino.
Should I Order Custom Stoneware?
If you have more questions about custom stoneware mugs and steins, we can answer them all, and we're eager to help you get the information you need. Contact us today to learn more about custom stoneware mugs and steins handcrafted by artisans in Minneapolis.