As a business owner, you should always be looking out for cost-effective and creative ways to build customer loyalty and make extra impressions to strengthen your reputation as a brand and retain your current patrons. Selling or giving your customers stylish and useful branded merchandise is a fantastic way to reward your customers while spreading the word about your business. Unfortunately, odds are very good that a vast majority of your competitors are using the same tactic to draw in new consumers. If you want to differentiate yourself from these other brands, you'll need to offer unique types of merchandise that mesh well with the spirit and personality of your brand.
Grey Fox Pottery is fully committed to helping businesses grow and succeed by providing them with all of the knowledge and tools they need to acquire new customers and strengthen brand loyalty. That's why we offer high-quality, affordable branded pottery. Today we'll be discussing an incredibly fun and affordable piece of merchandise that you can use to rise above the competition and get people talking about your brand: the custom beer stein.
What is a Beer Stein?
Ceramic beer steins are gorgeous stoneware pieces that originated in Germany during the 14th century. They're essentially ornamental beer mugs that feature open tops or hinged lids. They also harken back to an era where people would sit down at the end of a long day and drink their hard-earned beer out of a wooden or pewter tankard.
Beer steins come in a large variety of different shapes and sizes, and each variant can enhance the experience of drinking alcoholic beverages. For example, pilsner steins are used to serve lighter beers. Since this style has a wide top, it retains the foamy head of beer for a longer duration, improving the drink's flavor and scent in the process. Another popular style of beer stein is the potbelly, a classic, elegant design with a bulbous bottom and a narrow opening. Its wide base encourages beer drinkers to swirl the beverage and release its aromatic compounds into the air.
The Benefits of Ordering Custom Beer Steins
Because beer steins offer such a unique look and interesting drinking experiences, they're a massive boon for businesses that are trying to reward loyal customers and attract new ones with one-of-a-kind merchandise. The drab and dull assortment of generic cups or mugs that your rivals order will pale in comparison to these beautiful and rare pieces of pottery, especially if you have them engraved with your awesome logo or a piece of compelling artwork.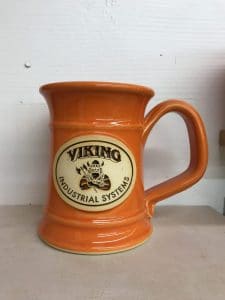 It's also worth noting that custom branded beer steins are very memorable and pique the curiosity of your potential customers more effectively than most types of merchandise. Take it from us, if you provide a loyal fan with one of these pieces, their friends, family members and coworkers will all be asking about where they managed to find such a cool mug.
Most importantly, customers are immensely impressed when brands take the additional time and effort to set them up with high-quality merchandise. When you invest in attractive and dependable stoneware steins for your patrons, you're showing them that you truly appreciate their support and want to go the extra mile to give them a gift that they can't find anywhere else. Simple gestures like these will go a long way in building a solid foundation of loyal customers and establishing the fact that your brand offers unrivaled customer service.
Why Should I Choose Grey Fox Pottery?
Grey Fox Pottery uses the finest materials and best processes to ensure that our pottery is highly resistant to chipping, wear and tear. We also offer more than a dozen beer stein styles and an incredible selection of glaze colors, allowing you to create a unique line of beer steins that complements and enhances the look and feel of your brand. Our minimum order size is just 48 pieces, granting you the flexibility to experiment with multiple styles or order a small supply of "limited editions" steins for special events or promotions. We'll work with you to design a perfect order of pottery that meets your needs and fits your budget every single time.
Most importantly, each beer stein that Grey Fox Pottery produces is handmade with passion and care by a talented American artist. When you order pottery from us, you're supporting an American company and directly contributing to the country's economy and growth.
Order Branded Stoneware From Grey Fox Pottery Today
If you're interested in purchasing a selection of quality stoneware pottery for your brand, then be sure to get a quote from us today. All you need to do is fill out a short contact form, specify the mug style and quantity that you want to quote and provide us with an image file of the artwork or design that you want to engrave on your steins. Most designs can be completed in a half an hour or less.
Finally, if you have any questions about Grey Fox Pottery or want more advice on which type of pottery will work best for your brand, then be sure to call or message us today! We look forward to hearing from you soon.