Let's face it, small business marketing is tough. Whether you run a small coffee shop, restaurant, cafe, bakery or bed and breakfast, it can be incredibly challenging to put your brand in front of prospective customers. Even if your business brings more value and integrity to the table than all of your competitors put together, it won't thrive and differentiate itself unless you find a way to effectively convey your unique values and services to new potential patrons.
At Grey Fox Pottery, we have an intimate understanding of what it's like to be a small business that's fighting tooth and nail to rise above the ranks. Every single year, we help hundreds of small businesses grow by providing them with handmade stoneware mugs that display and promote their brand's logo and messaging. Today we'll be discussing how handmade coffee mugs can make your business stand out from competitors and contribute to its success.
The Dangers of Mass-Produced Merchandise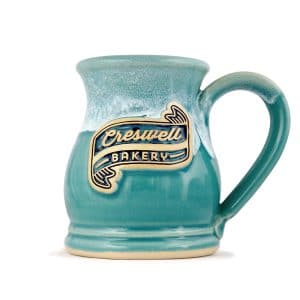 Take a look at the branded merchandise of your three top competitors. The exact items they offer will vary depending on which industry you're in, but we're willing to bet that they sell or give out T-shirts, writing utensils and coffee mugs. Odds are also good most of those products are chintzy and mass-produced. Merchandise like that may be inexpensive and easy to order in bulk, but it also sends fans and customers a very clear message:
"Our business is no different from a thousand others, and we're willing to compromise on quality to save cash."
Your merchandise tells potential customers a great deal about the qualities and values of your business. Handing them a branded coffee mug that's a cheap carbon copy teaches them to associate your business with bland, forgettable knick knacks. If you can't be bothered to invest in high-quality merchandise for them, then why should they trust the effectiveness or reliability of your other services or products? To be blunt, low-quality merchandise makes your brand synonymous with low quality, and no one is going to bother remembering (let alone purchasing from) a subpar business.
When a new prospective customer sees their co-worker walking around the office with one of your branded coffee mugs, you want them to be impressed with its stylish look and quality. You want it to stoke the fires of their curiosity, imprint itself in their memory and (ideally) compel them to ask its owner about where they got such an awesome piece of pottery. If you follow the lead of your competitors and settle for boring and generic mugs, they have next to no chance of making a positive impression or driving favorable discussion. In fact, they're unlikely to be noticed or talked about at all. Put simply, distributing fantastic merchandise that stands out is one of the best ways to make your brand stand out.
Investing in High-Quality and Affordable Coffee Mugs
OK, now that you understand why purchasing mass-produced merchandise is a bad idea, let's go over superior alternatives. One of the primary reasons why small business owners choose generic and samey coffee mugs is because they're inexpensive. Your organization isn't pulling in a massive amount of money yet, and paying bills and employees obviously takes precedence over paying for expensive mugs. But what if we told you that you could pick up an order of gorgeous stoneware pottery for an incredibly affordable price?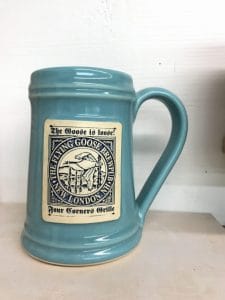 Grey Fox Pottery prides itself in designing and selling customizable, handmade coffee mugs at prices that any small business can fit within its budget. We offer more than a dozen unique mug styles and a phenomenal range of different glaze colors, allowing you to create a sleek and stylish pottery line that complements the look and feel of your brand. Because each of our pieces is handmade by one of our talented American artists, no two Grey Fox mugs are exactly alike. Most importantly, our stoneware pieces are incredibly strong and highly resistant to chipping and cracking, allowing your patrons to enjoy their favorite new mugs for years and years to come.
Rewarding the loyalty and patronage of customers with our mugs is an excellent way to show them that you sincerely value their support and are willing to go the extra mile for them (unlike a vast majority of your competitors). And believe us, if you treat your customers well in every aspect of your business, they will sing your praises to friends, family and co-workers alike, drawing in valuable new customers and cementing your reputation as a brand that's a cut above the rest.
Order Handmade Coffee Mugs From Grey Fox Pottery Today
Call or message us today if you're interested in growing your small business by designing and ordering beautiful stoneware coffee mugs for your brand. We look forward to working with you soon!