The season of Autumn heralds in cooler temps, warm colors, comfort foods, and Oktoberfest. Oktoberfest invokes images of buxom blondes, lederhosen and an abundance of beer, but it's history, present and future are even richer than that.
The History of Oktoberfest Events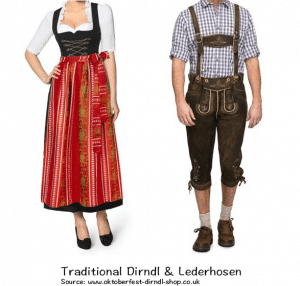 Oktoberfest originated in Munich, Germany in 1810 and is now the world's largest beer festival. It began as a royal wedding event thrown by Kronprinz Ludwig in honor of his Princess Therese. By 1819 the celebration was deemed an annual event and included horse races, tree climbing, carnival booths, and even agricultural shows. Because of the history and heritage the festival is a very important part of Bavarian culture and every year more than 6 million people from around the world attend it. In fact, numerous variations of Oktoberfest are found through out the world, giving all a chance to drink in celebration.
Undoubtedly, the biggest draw to Oktoberfest is the beer. Sometimes referred to as "liquid gold", it is estimated that festival attendees will drink over 6 million liters of beer this year. Of course if you are going to be partaking at any of the Oktoberfest celebrations around the world you will want to be as authentic as possible. Some of the ways to show your dedication is to dress the part from head to toe. For the females there is the dirndl and the males there is the lederhosen, both are folk costumes based on traditional clothing of Alps peasants.
Oktoberfest Beer Steins
To really find the dedicated fan, look for those who are drinking their favorite brew out of a traditional beer stein. In the German language the word "stein" is an abbreviated form, which means stoneware jug or tankard. The first beer mugs were made from clay because they discovered that thick stone is able to keep beer colder for longer. What most festival goer's look for in a mug is that they hold at least 20 oz. of their favorite brew and they can toast loudly without worrying about breakage.
Grey Fox Pottery understands the importance of celebrating to the fullest. Our Beer mugs and Tankards are designed to mimic traditional German steins. Our Hofbrau is the most popular German stein shape and we offer it in a 20 oz. size. Another style we offer is the Bavarian, which holds even more beer at 24 oz. We created it to honor the culture and region of Bavaria, where it originated. Traditional beer steins are known not only for their size and shape, but also their personalization. You can always spot a true Oktoberfest fan by their collection of custom beer steins and tankards.
Custom Oktoberfest Beer Steins Make Your Event Stand Out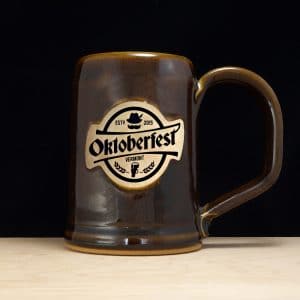 Let us help you make your Oktoberfest as authentic as possible. Each beer stein is made by hand which means no two steins are alike. It also means you're able to offer your customers a product they won't get anywhere else. Let us customize your steins with your logo using our Ceramic Scrimshaw process that's a cut above ordinary decals or screen prints on cheap blanks. Choose from two-tone glazes or more traditional single colors from our wide selection.
When planning your next Oktoberfest or Autumn/Fall celebration, contact us to help you make it as traditional and authentic as you can.
Prost!