It's safe to say that a majority of Americans over the age of 21 has played trivia at a brewery at one time or another. It's almost a rite of passage at this point! If you're thinking that hosting pub trivia could make a great addition to your weekly or monthly schedule of events, you're right—the game is incredibly versatile and easily customized to your audience, making it a perfect fit for the social atmosphere of a bar.
But don't go throwing it onto your calendar quite yet. Just about every brewery offers some type of trivia. The trick to drawing in crowds is to differentiate yourself from all of those other spots around town. We're breaking down some tips that can help you stand out from the crowd and make your brewery the go-to place for a fun night. Here's how to host trivia the right way.
Change Up the Game
Just because you host (or are planning to host) trivia every week doesn't mean the game itself has to become routine. The internet offers a wealth of knowledge at the click of your mouse—do some research into topics that interest you or that are trending in popular culture, and come up with some tricky, fact-based questions that will have competitive groups racking their collective brains. If you're lucky, you'll come across a ready-made list that will make your job easy.
Lately, themed trivia nights are drawing massive crowds as self-proclaimed nerds seek to test their knowledge of their favorite movie or show. You'd be surprised at how many people will go to great lengths to prove that they know the most about "The Office" or "Game of Thrones!" If you've already made trivia nights a regular occurrence at your bar, be sure to advertise these special themed nights so that interested people will know to show up and others won't be taken by surprise.
Take to Social Media
As a general rule, people won't show up if an event isn't on their radar. Leverage your social media presence to promote those themed nights and attract bigger crowds. You might consider making a Facebook event so that customers can RSVP and send the information to their friends. The more fun and shareable you make your post, the more likely it is to reach a wider audience! As the event draws nearer, engage with that audience and generate some buzz by posting reminders and offering clues to certain questions.
Bring in a Trivia Host
If you've never hosted a game, you might want to think about hiring someone to run the event for you. It may seem simple from the outside, but quite a bit of work goes on behind the scenes. It's never as easy as reading questions into a microphone—you'll also need to tally up and keep track of points, keep an eye on the clock, and interact well with the audience. What do you do if someone disagrees with the answer to a question, or if a group contests their final score? A professional host can make those hard calls while keeping the game running smoothly. There are a number of professional trivia companies to choose from—here in Minneapolis, we love Trivia Mafia and Sporcle!  
Unique Prizes
Gift cards and free drinks are always great prizes, but your first-place trivia champions deserve something truly unique—something customers can't get anywhere besides at your bar on trivia night. We're talking branded merch! Whether it's a t-shirt with your logo splashed across the front or a handmade beer stein, your winners will take their prize home and show it off with pride.
If you really want to up the ante, think about creating a custom stein featuring your logo along with a reference to the game. That could be anything from a simple phrase like, "Trivia Champion" or a special glaze color only available on trivia night. At Grey Fox, we handcraft branded mugs and steins that can make the perfect prize. With a solid feel and gorgeous finish, our stoneware will make your top team feel like real winners!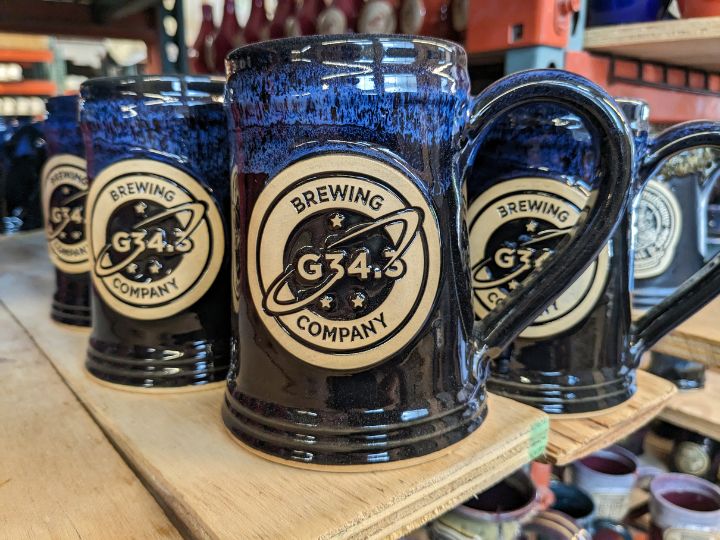 Special Deals
Many breweries schedule trivia games to begin after happy hour ends, in the hopes that customers will show up early for cheap drinks and food and then hang around for trivia. It's a great plan, but you could be missing out on potential visitors who can't make it to happy hour and don't want to pay full-price to drink during the game. If your trivia nights aren't attracting the crowd you hoped for, advertise some special deals, such as discounted drinks during the course of the game to something more interactive, like a free appetizer for answering five questions in a row correctly. The combination of good drinks and a fun atmosphere is sure to lift spirits!
Elevate Your Atmosphere with Custom Stoneware
As a small business ourselves, we understand the value of hard work and a clear vision. We're dedicated to helping you execute your own vision by providing high-quality pieces at affordable prices. Contact Grey Fox today to get started designing your ideal mugs and steins!