Every business owner knows the importance of marketing and building brand awareness with customers. Whether you run a coffee shop, bakery, or provide a service such as legal or accounting, you want your business and your brand name to come to mind whenever your target market is ready to shop.
There are many ways to advertise and market a business, and many of them can be expensive. Luckily, there are also budget-friendly options that allow you to showcase your brand or services in unique ways––and some can even pay for themselves over time.
One great way to spread the word is with a custom coffee mug that includes your small business logo, motto, or catchphrase. There are dozens of ways that consumers use mugs beyond just drinking coffee or tea––for example, as a container for pens, or as a small floral vase––and they can be a powerful tool to gain recognition and to keep your business constantly in front of customers.
When it comes to choosing a company to produce your custom coffee mugs, it may be tempting to order through a company that uses cheap methods of overseas mass production. A smarter choice is to partner with an American company employing skilled local artisans.Just imagine working with a team of local talents, available during working hours in your timezone, to create a distinctive piece that reflects your business.
Here are five reasons why you should consider working with a U.S.-based company to develop a custom coffee mug for your small business.
Make Your Mug Stand Out
Your business and brand are unique, and you work hard to provide a distinctive experience to each of your customers. Your marketing and promotional pieces should reflect those same characteristics and qualities that make your business stand out.
Working with a company to craft a high quality custom coffee mug will help you to stand out among the competition. The mug will be a positive embodiment of your business' unique mission and spirit. Every time a customer drinks from your mug, they will be reminded of your commitment to the kind of quality, craftsmanship and artistry that's reflected in the design.
Market with Something Useful to Consumers
Advertising Age, the premier publication for marketing and advertising gurus, examined the growth and efficacy of promotional product advertising back in 2006. That year, promotional products were an $18 billion industry in the U.S., and companies from large conglomerates like Commerce Bank to local businesses branded products with their business name. Since then, the industry has grown to $21 billion annually.
In their article, they interviewed a number of marketing experts on the right ways to use promotional products to get a return on investment for your business. The most important point? That branded products should be useful, long lasting, and appreciated by your customer to achieve maximum impact.
A high-quality, artisan inspired coffee mug is an excellent example of a promotional product that meets all three criteria.
Create Repeat Customers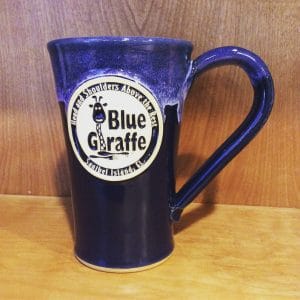 Promotional products are an extremely effective way of marketing your business. According to a 2012 survey conducted by the British Promotional Merchandise Association, over 66% of people were able to remember the business name or brand of a promotional product they received in the past year. More notable was that 79% of participants said they would be likely to do business with the company again.
Not only do well-made promotional items help retain customers, but they can also help you gain new customers. The British study found that branded products can change consumer behavior, and some said that they would be willing to switch brands or use another provider because of a "free gift with purchase" type of promotion.
While this is all very exciting, there is one caveat. Coffee mugs are an extremely popular choice when it comes to a promotional item. In the British study, they were ranked by consumers as the third most useful item, and they remain a top five choice among businesses to use for branding.
If you're considering using a coffee mug to promote your business, it is very important that you select a design that is unique enough that you'll stand out among others in your field. A custom coffee mug designed and created to be one of a kind is a great way to help you stand above your competition.
Coffee Mugs Make Great Gifts
Finding the perfect gift for a co-worker, teacher, student, friend, or loved one can be tricky. The social media site dedicated to do-it-yourself projects, Pinterest, has thousands of ideas on how to make a coffee mug into a perfect gift. Wouldn't it be fun if someone could purchase a dozen of your custom coffee mugs to give as gifts during the next holiday season to their friends and family?
By working with a U.S.-based business to create an attractive custom mug, you open the door to allowing your customers to do the work of spreading the word about your business for you. If they're sharing your design that includes your business logo with their social circle, you'll be reaping the benefits of advertising and powerful word of mouth testimonials.
Daily Visibility to Customers
According to the National Coffee Association, 54% of Americans over the age of 18 drink coffee every single day. On average, adults are drinking three cups per day, and over half are drinking it during breakfast time, likely from a coffee mug they've pulled from their cabinet or they are served at a restaurant.
Whether you're looking to build daily repeat customers or simply to remain engaged with your current niche clients, it's important that customers think of you when it's time to make a decision on who to use. Coffee shops, bakeries, attorneys, CPAs, or destination bed and breakfasts alike can benefit from staying constantly visible. What better way to stay in front of your customers every single day than by providing a branded mug that they could potentially use on a daily basis?