Over the last 30 years running has seemed to surge in public popularity, but in recent years Grey Fox Pottery has noticed a surge in custom mug orders from running groups, retail stores and race organizers wanting a custom mug to sell or award as finisher mugs. We hope it is telling a story of more people wanting to increase and maintain their physical fitness and also a desire to create a more memorable experience for participants.
What is Ultra Running?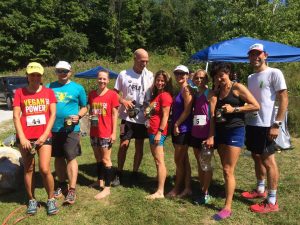 Some of the races appear that they are more folly than fitness. We get a kick out of some of the names and obstacles, but one of the remarkable races we've recently worked with is the Jug End Trail race organized by the Berkshire Ultra Running Community for Service (BURCS) spearheaded by Benn Griffin.
Ultra running differs from regular distance running (think 5k, marathons, etc.) in a few ways. First, the ultra running is usually long distance running of 50k or more. Second, ultra running is often achieved on and off the pavement. It is not unusual for an ultra marathon participant to be challenged with some pretty severe terrain. Ultra running isn't an elite sport, but it definitely isn't for the novice runner.
Jug End Loop Ultra Run
Benn reached out to us to create handmade mugs for the Jug End Loop Ultra in 2016 and again we are currently working on the design of the 2017 mugs. It is a 6-hour time limited race mapped out over 4.15 miles of woods, fields and picturesque apple fields of the Jug End State Reservation in Egremont, MA. The race welcomes both ultra marathon runners as well as those hoping to mark their half and full marathon finishes. Benn and the BURCS founders are dedicated to inspiring others to improve their running while spreading awareness about important social, civic and environmental issues in the community.
"BURCS to me is about building a sustainable community of runners to share the world of today and to give home and urgency to the issues that will directly impact the generations of tomorrow," states Griffin in his bio on their website.
Eco Friendly and Reusable Cups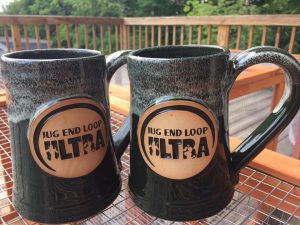 Grey Fox Pottery hand crafted a 16 ounce Traditional stoneware mug in 2016 which is perfect for a large pour of coffee or a cold mug of beer. Because of the popularity of the custom mug, this year we will make the same style but Benn chose a new glaze color to offer a bit of variety.
New in 2017, the race organizers will not provide cups for beverages for the runners, rather insisting participants bring their own reusable bottles to reduce environmental impact. We think our stoneware mugs do the same. Handmade and sturdy, these are mementos that will be cherished for years to come as a reminder of strength and perseverance to these runners.
At the end of the race, Benn greets each finisher with the mug or as he calls it, a "jug", and a hug. What a great way to celebrate accomplishment. We are so proud to be partnering with Benn and BURCS to help create more meaningful races for runners.
If you have an commemorative event or fundraising event and are searching for something unique to offer participants or donors, we'd love to help incorporate your artwork and vision into a handmade stoneware mug