Whether you own a coffee shop, a bed and breakfast, a restaurant that serves coffee, or an organization that sells awesome souvenirs, providing custom branded mugs is a fantastic way to make a positive impression on customers and promote loyalty. After all, who doesn't get excited at the prospect of owning a new mug that proudly displays the artwork or logo of their favorite brand? Here at Grey Fox Pottery, we're experts at designing unique and memorable branded pottery. Today, we'll be covering how you can use custom mugs to create and maintain strong customer loyalty.
Choose Stoneware Over Earthenware if Possible
You can choose to order stoneware or earthenware mugs for your brand. Earthenware is pottery that's been fired at a low temperature. It's simple and cheap to make, but it also breaks and chips pretty easily. Don't make the mistake of disappointing your valued customers with chintzy mugs. They deserve a pottery product that matches the reliability and quality of your brand.
Stoneware pottery is significantly stronger than earthenware. Believe it or not, it can even resist hard scratches from metal objects. And don't worry about sacrificing aesthetic for durability; glazed stoneware mugs look just as gorgeous as their cheaper cousins. Don't believe us? Just take a look at a few of the phenomenal stoneware mug designs we've put together here.
Go with Handmade Mugs
You want custom coffee mugs that exude the personality and charm of your organization or cause. Standardized and mass-produced mugs are inexpensive and easy to get, but they're also unremarkable. Your aim should always be to differentiate yourself from competitors and prove that you bring the most value to the table. But that's difficult to do when the merchandise you offer is generic.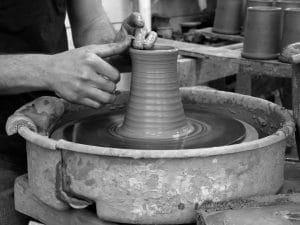 The beauty of handmade pottery is that each product is completely unique. Distinct grooves and textures are the telltale signs of stoneware mugs thrown by master potters and finished by skilled clay artisans. When hand batched glasses are applied one mug at a time, they blossom into unique patterns, so no two are exactly alike. Make no mistake, handmade orders won't arrive as an unrefined assortment of mugs. These are subtle, attractive and surprisingly uniform differences that add personality to every single product you order. Handmade mugs provide each of your customers with a quality piece that's just as unique and irreplaceable as they are.
Diversify Your Custom Mugs
Variety is the spice of life, especially when it comes to merchandise. The main problem with most custom mug makers is that they offer bland and boring designs with a limited selection of styles. And even if you do find a company that offers decent variety, they often force you to purchase massive quantities for each order, preventing you from diversifying and experimenting with different looks. That's why you should always go with a provider that allows you to switch up the aesthetic of your mugs whenever inspiration strikes. Trust us, your customers will thank you for it.
Grey Fox Pottery provides a staggering number of glaze colors to choose from. Seriously, we have an unbeatable variety of options. We can create mugs with a standard single color, or go with a two-tone creative finish if you're feeling adventurous. Combine these glaze types with the 24 mug styles we offer, and you have an impressive number of custom options to choose from. Best of all, our minimum order is just 48 pieces. This allows you to quickly and easily provide customers with a huge selection of custom handmade coffee mugs without breaking the bank.
Construct a Collection Challenge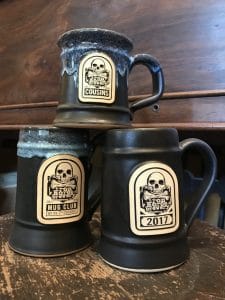 If you really want to be ambitious, consider ordering a wide variety of different mug designs for your business, then challenge customers to collect them all. You can split these up between different promotional events and activities to encourage your fans to check out all of them. Just remember to acknowledge and reward dedicated collectors with some sort of discount and a shout-out over social media.
Little interactions like this are great for driving consumer engagement and making your brand more personable. You don't need to be the biggest or most extravagantly wealthy brand around to create consumer loyalty. You just need to show small gestures of appreciation to your customers by giving out merch or setting up fun and engaging activities that reflect your brand's personality (or both). Last but not least, always try to arrange loyalty rewards and events that none of your rivals have yet. It'll require some creativity and a few brainstorming sessions, but this critical step will make your brand stand out even further and keep customers in your corner of the ring.
Order Custom Stoneware Mugs from Grey Fox Pottery Today
Now that you have a solid understanding of the custom mug options at your disposal, it's time to order some! Grey Fox Pottery offers quality stoneware coffee mugs at an affordable price. We also have an incredibly user-friendly ordering system. Just follow this link to our ordering page, fill in all of your contact information, specify the style and quantity of the mugs you want, and upload an image file (a PDF or original vector art is ideal) of the artwork you'd like featured on your new pottery. Our talented artists will take care of the rest, and you'll be swimming in loyal customers (who may or may not pester you for even more awesome mug designs for the foreseeable future) before you know it.