Way up near the Canadian border in the town of Mora, Minnesota. Hearty men and women come together for a weekend of snow races, including a fat tire race at the Vasaloppet USA.
Armed with a fat tire bike, race participants aren't the type to hide from winter they celebrate it. This year's Vasaloppet events happened during an extremely cold weekend, to be expected in Northern Minnesota. Some chose to warm up with a hot drink, other's cooled down with a cold beer after the race in with handcrafted beer steins.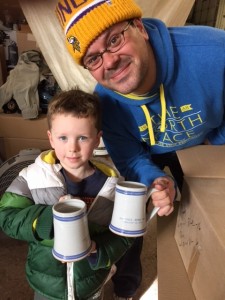 The beer steins were given to the long race participants to celebrate their hard work and were a huge success.
 "The feedback on the mugs was awesome, they just loved them.  So many people wanted to buy them, but we ran out." – Josh Stark
The USA Vasaloppet was founded in 1973 and held their first ski race in a farm field in Kanabec County, MN. Over the past 43 years the race has grown to multiple ski races plus the fat tire bike race. The Vasaloppet is know for a wonderful volunteer spirit and hospitality that brings racers back year after year. We are proud to help celebrate these athletes braving the most extreme weather, they certainly deserve their own handcrafted beer stein!