A beautiful Minnesota summer evening in June was marked by an even more beautiful event where hundreds came together to celebrate the hard work and dedication to raising awareness and funds to benefit cancer research and patients at the Rush to the Cure Gala. Grey Fox Pottery was honored to be among those who lent their time, talent and treasures to the Randy Shaver Cancer Research and Community Fund this year.
Randy Shaver is a local news anchor on NBC affiliate station KARE11 in Minneapolis. A cancer survivor himself, Randy has dedicated his time to raising over $5,000,000 for cancer research and patient care since 1995 and well on their way to $6,000,000! What is especially notable about the Foundation is the fact that ALL the money raised stays in Minnesota and they function at a slim 9.8% budget for expenses ensuring as much money as possible goes to funding. In Minnesota alone the Department of Health estimate over 282,000 residents are living with a history of cancer.*
The Randy Shaver Cancer Research and Community Fund (RSCRCF) raises money throughout the year with events to engage the local community including Culver's Cares' Day of Giving, Rush Creek Golf Classic, Shaver Shuffle 5k, Million Kicks for Cancer and the one that caught our eye, Tackle Cancer.
Our Part in Tackling Cancer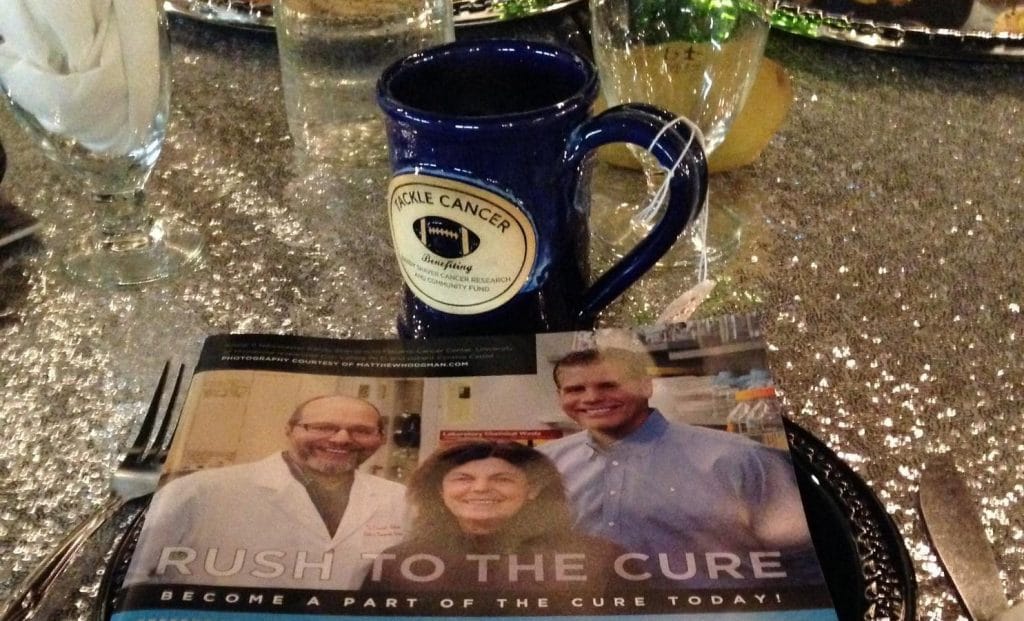 Randy was inducted in the Minnesota Football Coaches Association Hall of Fame in 2004 and continues to actively coach and support local sports in the Twin Cities. Tackle Cancer kicks off annually in August and draws crowds to state-wide Minnesota high school football games. The RSCRCF partners with the Minnesota Football Coaches Association to enlist local high schools to earmark one game during the season as the "Tackle Cancer" game. Students work together promote the special game to families and their community and collect donations at the gate. In 2015 Tackle Cancer dedicated games were played by 160 Minnesota High Schools, 14 Minnesota Universities and Colleges and the Minnesota Vikings! The Tackle Cancer initiative for 2015 ended with over $230,000 raised!
We wanted to be a part of this cause and contacted Roseann Giovanatto-Shaver, Executive Director of the RSCRCF (and Randy's wife). Roseann went straight to her team to figure out how handmade custom mugs personalized with a Tackle Cancer medallion could be used to raise money and awareness for this important cause. Together, we chose the Slimline mug style, great for coffee or beer, in a rich midnight blue with a bright teal rim glaze to match their brand colors. This spring the Minnesota's High School Football Coaches and RSCRCF came together to kick off a new season with a special dinner at the DoubleTree Hotel in St Louis Park, MN. Local brewery, Fulton, donated a bottle of their Lonely Blonde beer to every coach who purchased a handmade Tackle Cancer pottery mug, a perfect pairing! This event gave a jump start to the 2016 season with nearly $1,000 raised in mug sales!
Doing More With Handmade Mugs
Wanting to do more, we worked with Roseann and her team to find more ways to fundraise with custom mugs. The next event we partnered with the RSCRCF was the Rush to the Cure Gala on June 5th at the Medina Entertainment Center. This is their flagship event, which kicks off the night before a day of celebrity golfing with 64 groups at the Rush Creek Golf Club in Maple Grove.
The Medina Entertainment Center was beautifully decorated for a glamorous, fun evening that including pictures with Randy Shaver, fundraising games, beer provided by Fulton Brewery, delectable food, silent and live auction with a lot of sports memorabilia and experiences up for bid, keynote addresses by cancer research advocates and entertainment by NBC's Last Comic Standing Season 5 semi-finalist, comedian Tracey Ashley!
Our handmade mugs were used in the game "Mug and Slug Cancer". Attendees purchased a handmade mug to play. Randy pulled lucky numbers out of a jar until just 10 contestants remained. They came on stage in front of hundreds to have a little fun with Randy and Las Vegas Magician, Tim Gabrielson. The winner of the game was the one who could pop their balloon first by sitting on it. The contestants were good sports with all eyes on them and a few good laughs at their expense. The winner walked away with a 14k gold channel set diamond ring donated by Elequent Jewelers and everyone went home with their own handmade pottery mug! This game alone raised approximately $2,400 that evening to help to round out their fiscal year with over $310,000 raised!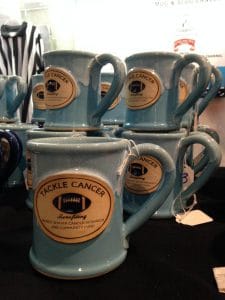 Of course, the real winners that night were the beneficiaries of the funds raised including Dr. Dan Vallera of the Masonic Cancer Center, University of Minnesota Medical Foundation who is using the grant funds to use the natural killer cells of our immune systems to kill leukemia. His efforts have already helped one local woman who is now living cancer-free a little over two years since her treatment. You can watch their stories here.
Other Randy Shaver Cancer Research and Community Fund Grant beneficiaries include: Children's Healthcare Foundation, Priceless for Purpose, Memorial Blood Centers, Camp Kesem, Firefly Sisterhood, Fairview Foundation, Cycle Health, and Open Arms, a meal delivery program for cancer patients and their caregivers.
Thankful
We are truly inspired by so many of our local 'heroes' and the time they dedicate in creating meaningful and lasting impact for those in need. We can only hope that our work, in some small part, can help further this and other organizations' efforts to find a cure for cancer. We encourage you to learn more about the Randy Shaver Cancer Research and Community Fund and how you can help, on their website www.randyshavercancerfund.org. You'll be amazed by how just a little giving can have a tremendous impact on others in need.
Thank you again to Randy, Roseann and their dedicated team in allowing us to be part of such a great cause!
* Source Minnesota Cancer Facts and Figures. Minnesota Department of Health Web site. http://www.health.state.mn.us/divs/healthimprovement/content/documents/CancerFandF.pdf