If you run an independent brewery, you should always be on the lookout for new and fun ways to engage with your patrons to foster brand loyalty and growth. That means hosting exciting events and picking up cool merchandise that conveys the energy and passion of your brand. You've probably considered clothing, drink glasses and coasters already, but have you ever thought of picking up a shipment of custom branded beer steins? That's right, those awesome beer containers with large handles. They come in a wide variety of different shapes, sizes and styles, each of which is designed to enhance the taste and quality of the beer they hold, and they're a superb way to enhance the drinking experience of your fans.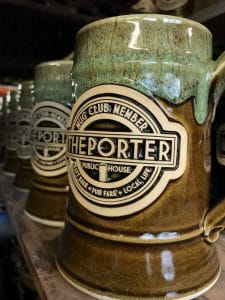 Here at Grey Fox Pottery, we take pride in providing quality beer steins for breweries across the nation. Today, we'll be discussing the benefits of picking up branded beer steins, talking about a few different styles and running you through the process we follow when creating these timeless pottery pieces for our clients.
The Benefits of Branded Beer Steins for Breweries
Beer steins have an incredibly rich history. Believe it or not, some of the first steins were created way back in the 1500s. They harken back to an era where people cheered and celebrated with wooden tankards, not bland and generic beer glasses. As a result, they bring a distinct and refreshing look and feel to beer drinking, an experience that few breweries offer. That makes them a superb way to rise above and differentiate yourself from the competition. Just imagine how excited your patrons will be when you pull out gorgeous beer steins to reward them for their purchases instead of standard glass containers. Using this form of merch is an excellent tactic for building fan loyalty and promoting your brewery.
Remember, beer steins can make your beer taste better.too. For example, pilsner steins have a slender size that helps to keep beer bubbly. And because they're wider at the top, they actually retain the foamy head of the beer for longer, improving its flavor and scent in the process. There's also the potbelly beer stein, a popular style that sports a bulbous bottom and narrow opening. Its wide base compels beer drinkers to swirl their drink to release its powerful aroma, and it's beautifully suited for Belgian ales and stouts.
Once again, each type of beer stein bears its own distinct advantages and ideal beverage pairings, so be sure to do your homework and find the styles that perfectly match your offered drinks. If you have any questions about which stein types will work best for your selection of delicious beverages, then shoot us a call or message. We'd be happy to set you up with all the information you need.
How Grey Fox Pottery Creates Beer Steins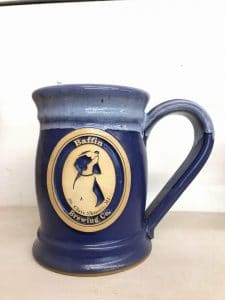 Grey Fox is all about fashioning handmade pottery to support the careers of American potters. That's why each beer stein we make is personally forged in the U.S. by an experienced American artist. Our ceramic beer steins are made from a sturdy and durable clay that's extremely resistant to chipping and wearing. Patrons value high-quality gifts that are made with care and love, and that's why they'll love and cherish the branded beer steins you order from Grey Fox.
Our beer steins come in an extensive range of looks and colors. We have 14 distinct styles to choose from, and each can be customized with a massive selection of glazes, allowing you to design a signature stein that's as stylish and unique as your brand. Best of all, our minimum order size is just 48 pieces, allowing you to try out different styles without burning a hole in your wallet. In fact, you can even create an assortment of different branded beer steins for fans to purchase or pick up during promotional events. After all, who doesn't love the challenge of completing a collection of cool merch?
Order Branded Beer Steins for Your Brewery With Grey Fox Pottery Today
Are you ready to thrill your customers with the finest beer steins available? Then take a look through our site and start making a wishlist of styles and glaze combinations that mesh well with your brewery. Once you've chosen a look that fits your tastes, just head to our contact page to place your order. You'll provide some basic contact information, the mug styles and quantities that you'd like and a picture of the artwork you want your steins to showcase. From there, our design team will set to work on turning your logo or art into a detailed clay medallion that perfectly replicates your branding. Most designs can be completed in under 30 minutes!
Thanks for taking the time to check out some of our services. If you have any questions about us or want more advice on which types of pottery will help your brewery stand out and thrive, then don't hesitate to call or message us today.