How do craft breweries all across the country attract the attention of people near and far? There are a number of factors that go into building a national fanbase.
It should be no surprise that beer is a big part of it, but if you're running a craft brewery, you're probably already brewing the beer you would want to drink, so what else can you do to attract like-minded beer drinkers?
Build Your Brand
In order to attract the attention of people outside your local community, you have to develop a distinctive brand. Your brand includes your logo, your labels, and the personality and imagery you present on social media – this all starts with an engaging logo sure to get the attention of local craft beer enthusiasts.
People should be able to see your logo and recognize it as yours. Your beer labeling and everything you present across social media can riff on your logo once you've established a strong identity.
Invite People to Stay a While
You may not be able to establish your brewery and taproom with a breathtaking mountain view or plant your operation next to a major tourist attraction, but you should do everything you can to make your taproom or brewpub the kind of place where people want to hang out.
Create a community and aim big. A mug club or loyalty club is a good start. Encourage people to share and create content about your beer on social media. Tie your beer and your space to holidays that call for a beer, national sporting events, and whatever else makes sense for your brand.
You could also encourage group activities like yardgames and boardgames. Or, you could advertise your space as a potential host for organizational get-togethers after hours.
Keep Things Fresh
Take advantage of seasonal brews and new releases by creating hype related to their release. Invite loyal fans and community members to be there when you pull the first pint. Create limited edition merchandise tied to seasonal beers so people who love your beer can help spread the word.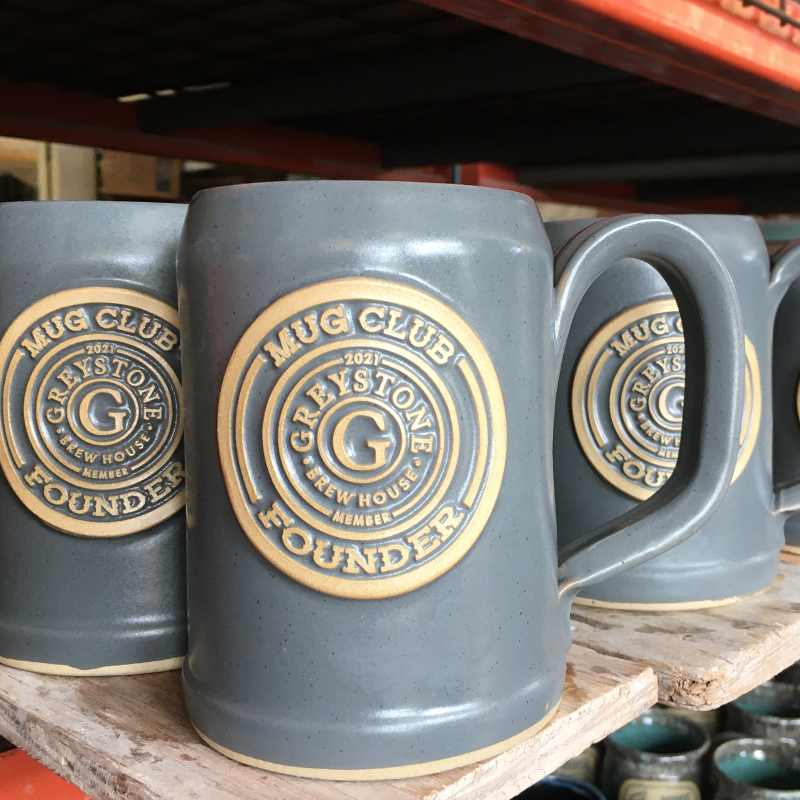 Up Your Merchandise Game
Something about the brewery experience makes people want to show their love. If you sell good beer, people will want to bring a piece of the experience home. Great merchandise starts with a good logo, of course. It doesn't matter how great your beer is if your logo doesn't look good on a stoneware stein or a baseball cap.
Don't be afraid to offer limited edition merchandise to commemorate events or beers. It's okay to sell out to create a sense of scarcity for people who will want to be in the club next time. Offer a collectible stein for every St. Patrick's Day or the first Oatmeal Stout of the fall to entice people to make a collection.
A Look at a Few of the Best
You may not be able to drop your brewery on the Pacific Coast (you should definitely do this if you can), or reasonably claim a mountain range for your name (also advised if it make sense), but let's take a look at what a few of the most popular craft breweries in the US are doing right.
1. Yuengling – Pottsville, PA
Yuengling is the oldest continuously operating brewery in the United States, since 1829. You may not be able to get your hands on a Yuengling Amber Ale and that's part of the charm. Yuengling limits distribution to certain geographical areas. You have to visit the nearly 200 year old brewery if you're anywhere near Pottsville to have a very agreeable Traditional Lager at the source. Their charmingly old-fashioned script logo is authentic to the history and looks good on a t-shirt, too.
2. Sierra Nevada Brewing Company – Chico, CA
Sierra Nevada's logo is a good example of something that's distinctive and memorable enough that they're able to play with it. Their full logo shows off some snowy mountain peaks and a glacial lake, with a name banner over the scene.
Seasonal beers and more experimental beers keep the banner, but swap out the mountain scenery for a much more funky and colorful label. Sierra Nevada creates intuitive merchandise for new beers as well – like big knit socks for a Bigfoot Ale and an insulated mug for their signature beer which they tout as the "official" beer of camping.
3. Schell's Brewing Company
One tip for sticking around long-term and obtaining a national fanbase: never forget where you come from. Founded in New Ulm, MN, Schell's Brewing Company relishes in their small town roots. Whether selling merch or giving a tour, they regularly exhibit their rustic, yet bold brand and traditional American narrative – the heart of which is an easily recognizable logo: a classically drawn buck over a bright red circle. Their story is over 140 years in the making and, despite their success, they continue to bear the small brewery appeal that makes them so special.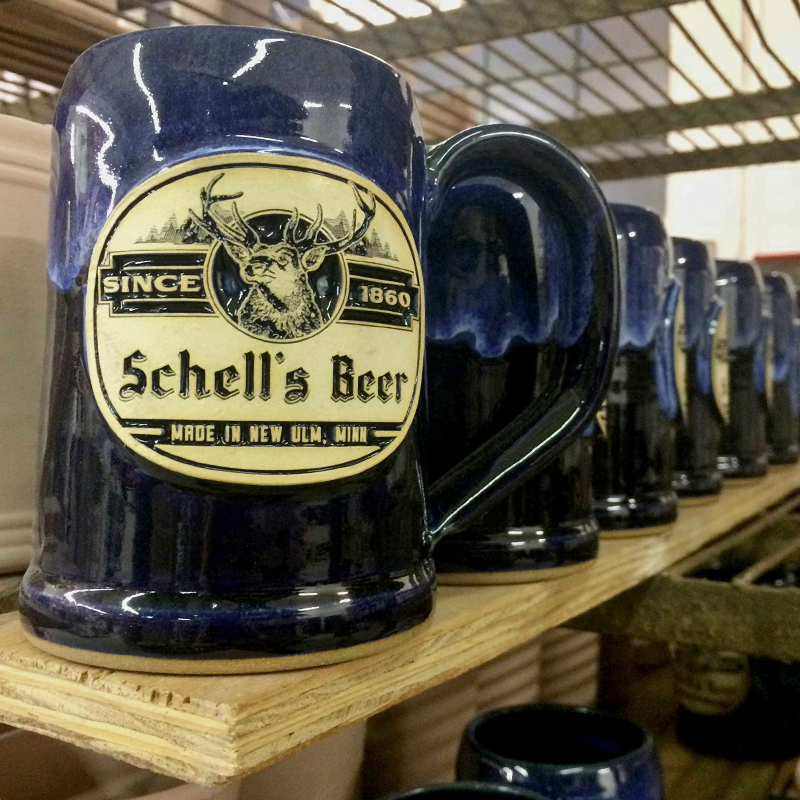 4. Deschutes – Bend, Oregon
Deschuetes really leans into two things: their Oregon location, and hops. Their logo is the exception that proves the rule. Every can or bottle has a different label and sometimes the brewery name is a bold red column down the side or sometimes their more old-fashioned circular mountain scene logo. Deschutes features hops heavily in their merchandise and labeling, an appropriate choice being their most popular beer is their cascade-hop forward Fresh Squeezed IPA.
Punch up Your Merchandise Selection
Let your customers show off their love for your beer and their favorite brewery by offering an intriguing selection of quality merchandise. Make sure people have a way to enjoy your beer at home in a branded beer stein so that they can spread the word even when they're not in your taproom.
Grey Fox Pottery offers stoneware beer steins in a variety of shapes and sizes, perfect for whatever you brew. Imagine your logo rendered in clay through our scrimshaw process. Contact us today to learn more.