You opened a coffee shop because you wanted to share great coffee with your community. Of course, it's essential to focus on brewing great coffee and serving a product you can be proud of. Sometimes, however, in the busy marketplace, providing a great product, even one that some people can't start their day without, isn't enough.
A smart merchandising program can bring attention and enthusiasm to your coffee and help spread the word in your local community. Customers using and showing off your branded merchandise online is some of the best marketing you can get. It's word-of-mouth advertising and brand awareness rolled into one mobile package.
Start With a Great Logo
Before you start splashing your logo all over branded merchandise, it's crucial that you design a logo that really tells your story and looks great too. Your logo should be easily recognizable and strong enough visually to hold its own on different types of merchandise and signage. The key is finding that good blend between a logo that does enough but not too much. We recommend hiring a professional designer if you're not one yourself.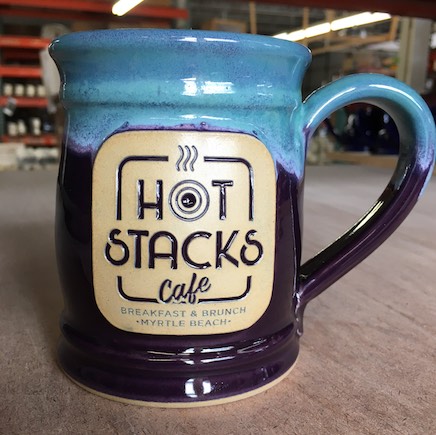 Think About What Makes Sense
A few things come to mind when you think about coffee shop merchandise: coffee mugs and travel cups first and foremost, and you should be sure to include those items in your assortment. A few tried and true things are always welcome when people browse merchandise like baseball caps, t-shirts, hooded sweatshirts, and tote bags.
Don't Forget Grab and Go
Consider also stocking a few items that take very little commitment to add to purchase, like vinyl stickers, magnets, or reusable straws for cold drinks. Offering a variety of inexpensive impulse items with the more substantial merchandise is a great way to get your logo in customer's hands (and on their water bottles, tablet cases, and cars).
Focus on Quality
It makes sense to put your logo only on merchandise that you would be happy to own. It might cost a little more upfront to order soft hoodies and t-shirts and have the logo printed so it won't immediately fade, but you don't want a customer's lasting impression of your logo to be of a faded logo on a shrunken t-shirt.
When you search for drinkware for serving in your shop and for your merchandise assortment, the same advice holds true. Consider a durable, timeless material like stoneware so your logo will be in your customer's kitchen for years to come – their favorite morning coffee mug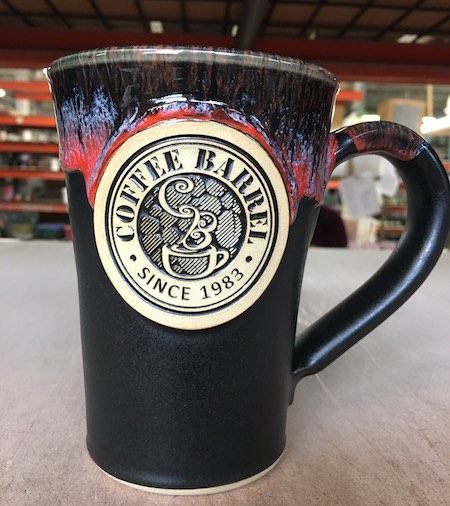 Shake It up Seasonally
The change of seasons likely brings a menu adjustment or the introduction of seasonal favorites. Why not take that cue to shake up your merchandise assortment as well? Adjust what you offer to support your coffee by providing a different colored mug for spring to go with a new spring drink.
Put together holiday gift merchandise so everyone who comes in to buy a coffee drink while they're shopping can see their favorite latte goes perfectly with a winter pom cap tastefully bearing your logo. Display bags of beans with holiday appropriate merchandise for everyone like travel mugs for teachers, bandanas for dog lovers, and mittens and scarves for everyone in cold climates.
Keep an attractive variety of small items on display all holiday season long so people who buy gift cards to your store can grab something to wrap with the gift: straws, hot mug cozies in seasonal flannels or cute prints, and more.
Use Your Merchandise to Build Community
Consider introducing a special line of merchandise: maybe mugs with a slight tweak on your recognizable logo, for example, and start a loyalty club with the mug as its calling card. Customers who bring their mugs or display the mug on social media with your hashtag can get a discount on coffee.
Invite a loyalty club to take part in the exclusive use of a meeting space for a members-only coffee happy hour once a week – supplying them with refreshments and a space they can call their own.
Create limited edition artist series or mugs released once per year with a special theme and dated or numbered.
Customers wearing branded merchandise out in the community also do the job of building a community of fans by showing their loyalty and stamp of approval for your coffee. Nothing is better marketing than personal word of mouth, and your branded merchandise can be the conversation starter.
Quality Stoneware for Great Coffee
When you're interested in putting your logo on a piece of merchandise that will stand the test of time, look no further than stoneware mugs from Grey Fox Pottery. Nothing goes with coffee better than a mug you can use every morning.
The artisans at Grey Fox Pottery use a ceramic scrimshaw technique to etch your logo into a clay badge before the stoneware is fired, effectively making your logo part of the stoneware so it won't ever chip away or fade. Take a look at our gallery to see the exciting ways our customers are using the variety of mug sizes and glaze colors we offer, and contact us today to find out more.