Do you want to look across the bar and see your pub packed full of people? Pubs can find themselves struggling to find ways to come up with new marketing strategies to bring in more customers.
Bar customers are a unique blend of loyal patrons who tend to find a particular locale they feel comfortable in, making it their staple brew-house.
But what about trying to get "new" customers to come in through your doors? Here are some great tips on how you can leverage your pub's marketing strategy to bring in more customers.
Future Use Coupons
One of the easiest ways to get people interested in your establishment is to offer an "incentive" for them to come through the door. Many pubs are finding that various customer coupons are working great to drive new traffic while establishing the loyal regular customer.
Using lingo such as "for every night you visit our pub, you get a free nightly punch. After five visits, your first beer is on us" can be a very effective way of building up your customer base. Not only does this encourage them to come into your pub, but it also creates a routine.
Habits are formed through repetition, so the more repeat business you promote, the better your long term results will yield.
Custom Glassware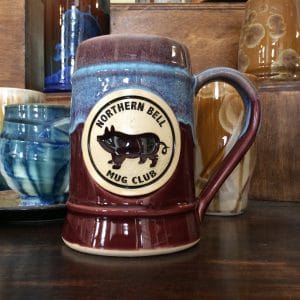 Who doesn't love free stuff? Beer lovers are no exception. One of the most common ways to promote your establishment is to offer custom glassware.
Whether that's a beer mug with your company logo, a flashy shot glass, or marketed beer mugs. Having something that your customer can take home with them is a great way to market.
Have you ever been over at a buddy's house during the game only to see him bring you a frosty in a beer mug from the pub around the corner?
That's instant marketing! Let's not forget that every time your customer uses your mug or beer glass; they are reminded of your business.
Seasonal Specials
One word, Octoberfest. Beer changes with the season, so there's no reason why you shouldn't be tapping into the naturally occurring phenomenon.
Offering specials based on the season can be an effective way to bring beer connoisseurs to your door.
By advertising the kick off of the different seasonal brews, you can tickle the taste buds without much effort. Those who love to get their hands on only seasonal beers are more likely to visit your establishment if you are promoting which ones you have on tap.
Contests
Similar to future coupons, the running game can be another creative way to boost your customer base. For example, if you know of a big game coming up, run a contest to see who can bring in the largest party for the event. Whoever wins the party count, reward them with a free pitcher of beer.
Other smaller contests can be done on a regular basis also to drive sales. If you find that Monday's are slow for your pub, then promote a game that runs only on that day. Think, "ladies night" but regarding engaging your customers with a fun activity.
Picking your contest dates can also coincide with big events coming up to give you the most bang for your buck. Most pubs already know how important big events are such as the Superbowl and playoffs, so why not take the extra step into creating more interest by coupling the event with a contest?
Live Music
Pubs and live music go hand in hand. If you own a pub and have not considered renting out a spot for the locals to come in and jam, then it's time to start. Live music is an easy and fun way to get people in the door.
One of the great things about live music is that you are in full control when it comes to the "vibe" you want in your business. If you are looking for a more relaxed environment, bring in some jazz. If you are hoping to raise the roof with sales, kick up the volume with a little rock 'n roll.
Offering a drink minimum during your live music events can be an excellent way to cover your band costs, while still making a few bucks off the top. Remember, it's not about the total proceeds for one single event or marketing technique. It's about bringing more customers to your pub on a regular basis.
There are a ton of ways to market your business, and just because your Pub has a solid base of "regulars" doesn't mean that you couldn't bring in new customers. Whether you are boosting engagement through contests, offering live music, giving away merchandise or even offering coupon rewards, you don't have to break the bank to get more customers.
If you'd like to discuss creating a custom mug for your business, get in touch with us and we'd love to talk through the best option for your business.