If you're thinking about investing in a line of branded coffee mugs or steins to spread the word about your organization, you'll likely be choosing between stoneware and earthenware products. These are the two most popular and affordable ceramics used to create branded pottery, and both of them utilize unique materials and firing processes. To complicate your decision further, both stoneware and earthenware items can be made by hand or through automation, and each approach has its own advantages. Put simply, if you want the highest quality merchandise for the lowest price, you'll need to understand and account for these differences. And that's where we come in.
At Grey Fox Pottery, we've spent the past 28 years helping businesses of every size and industry excel through gorgeous stoneware merchandise. Ultimately, our goal is to provide you with all of the resources and support you need to leave a meaningful, lasting impression on your customers and supporters, increasing sales and brand loyalty in the process. Today, to ensure that you choose the right type of ceramic mugs for your patrons, we'll be detailing three key advantages of choosing handmade stoneware products over other contenders.
1. Stoneware is Highly Durable
When you give away or sell mugs that bear your brand's artwork or logo, they become representatives of your organization's values and character, which is why it's critical to invest in pottery that communicates quality and reliability. One of the main problems with earthenware is that it's not strong or durable, leading to frequent chipping and breaking. Just imagine what supporters will think of your brand if the attractive mug you gift them falls apart after a handful of uses.
Unlike earthenware, the clay used in stoneware pottery has vitreous material added to it, making it significantly stronger and more resilient to chipping. Not only does this outstanding durability convey the quality and dependability of your brand to supporters, but it also ensures that your customers can use them for much longer, increasing the number of friends, family members and coworkers that will see and appreciate them!
2. Stoneware is Striking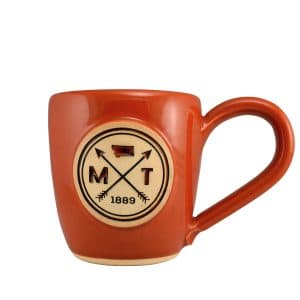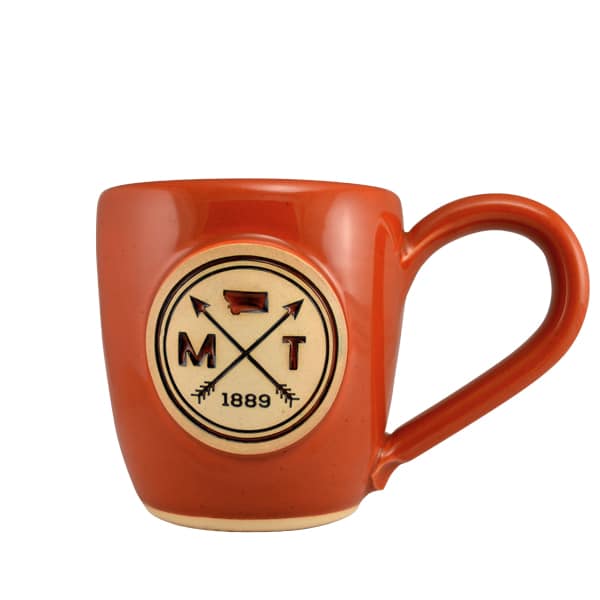 When potters produce earthenware, they use low-quality clay and the lowest temperatures to keep production expenses low. Consequently, earthenware potters need to make their wares as thick and heavy as possible to mitigate their fragility. That's why earthenware merchandise bears a bulky, unrefined and boring aesthetic that's unlikely to catch the eye of customers at all, let alone compel them to engage with your brand.
The beauty of stoneware is that it isn't overly thin and delicate (like porcelain) or thick and heavy (like earthenware). Stoneware achieves a perfect balance between weight, durability and thickness. This sleek, beautiful aesthetic is even more striking when paired with glazes that match your brand's distinct look and color scheme. For example, Grey Fox Pottery offers a huge range of single colors and two-tone combinations, granting you access to an endless variety of color options. Whether you need a bold mix of blue and red to convey a professional tone or wild, vibrant yellows and pinks to dazzle customers, Grey Fox Pottery has you covered.
3. Handmade Stoneware is Completely Unique
It's difficult for a supporter to view your branded mug as a unique gift when it's identical to the pieces that everyone else is receiving. No matter how high quality or gorgeous a stoneware mug is, unless it's a one-of-a-kind piece, receiving one just feels impersonal. That's why stoneware produced through automation can't compare to handmade pieces.
When a professional artist lovingly crafts an order of stoneware mugs by hand, each piece bears subtle but distinct differences, meaning that no two are exactly alike. When you offer a customer a handmade stoneware mug, you're showing that your brand values their support enough to give them a gift that's just as unique as they are. You're showing personality and thoughtfulness, two critical traits that build and maintain brand loyalty. So if you're looking to build a solid base of loyal customers that advocate for your brand, then custom handmade pottery is the perfect tool to get started.
Our Selection of Handmade Stoneware
Grey Fox Pottery supports the growth of fellow American businesses through handmade stoneware pieces that drive customer engagement and success. Our team of American artists has mastered the logo process, allowing us to perfectly replicate your brand's artwork on your new custom mugs. Not only do we offer a wealth of coffee mug styles, but we also produce custom beer steins and special event mugs, giving you the perfect stoneware for any occasion. Best of all, our minimum order size is only 48 mugs, providing you maximum flexibility to fit your needs and budget. Make no mistake; when you order a mug from Grey Fox Pottery, you'll be receiving a remarkably special, unique piece that will surprise and delight any customer.
Contact Grey Fox Pottery Today
Be sure to call or message us if you have any additional questions about the unique advantages of custom stoneware mugs over other types of ceramics. You can also reach out to us if you'd like to learn more about custom handmade pottery in general. Our team is fully committed to the growth and success of your business, and we would be more than happy to provide any additional counsel or resources you need to thrive.