Some coffee companies make great coffee. But, some make great coffee and give back in meaningful ways. 
We've put together a list of notable coffee companies with giving hearts and successful branding that show us there are many ways to do good out there.
Fire Department Coffee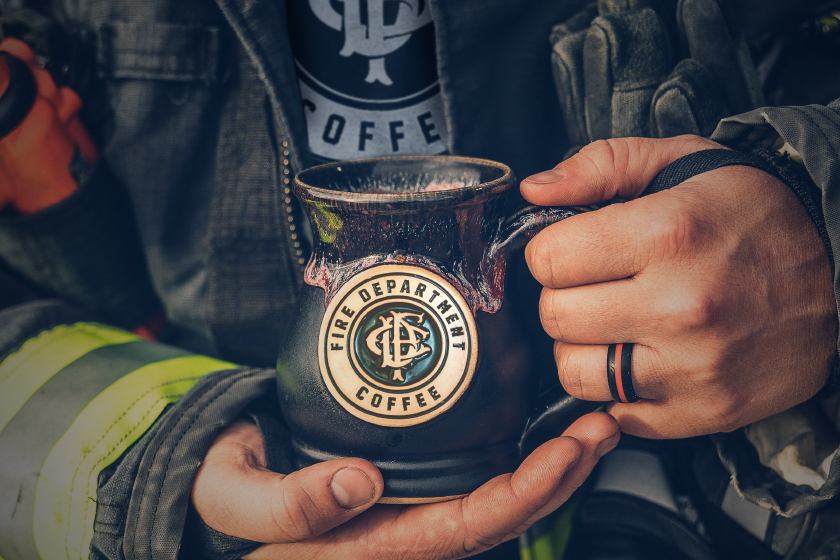 We started making mugs for Fire Department Coffee in 2017 and quickly learned about their mission to help, a mission that is the backbone of the organization. Founded and owned by U.S. Veterans, Fire Department Coffee is run and operated by current and former firefighters in Chicago, IL. 
They are not only dedicated to keeping first responders fueled for their work, but also in supporting their well-being by donating portions of profits to supporting those that are injured on the job, physically or mentally.
Bitty & Beau's Coffee
What started off as a mom and pop shop in Wilmington, NC founded by parent's of Beau and Bitty, both of whom have Down syndrome, has blossomed into a beautiful organization dedicated to creating jobs and growing awareness of the capabilities of those intellectual and developmental differences. 
Bitty & Beau's Coffee now has over 20 locations across the U.S. providing over 200 jobs throughout their local communities and spreading the word that people with disabilities are able and deserve the chance to work.
Colectivo Coffee Roaster
Roasted in Riverwest, Wisconsin, Colectivo Coffee has been roasting their coffees since 1992. They've expanded their roasting business to opening 20 cafes throughout Wisconsin and Illinois. Their cafes source ingredients from local food producers in the Midwest. 
Colectivo Coffee Roasters has fun with their fundraising. In November 2021 they released Turkey Trot whole bean coffee and partnered with three hunger relief programs in their communities donating $1 from each bag purchased. In 2020 they collaborated with the Milwaukee Institute of Art on a project with students to create unique designs to feature on their coffee cups. It was a great opportunity for budding young artists to break into the commercial space with their craft.
Oakland Coffee
Founded by the members of the band Green Day, Oakland Coffee rocks the world of coffee roasting and giving back. To them, giving back is three-fold. To start, they partner with farmers that employ organic and sustainable growing practices. 
Their mission to give back continues with their efforts to reduce plastic waste in consumer coffee. From single use cups to packaged coffee, Oakland Coffee is constantly searching for ways to lessen their eco-footprint and generate less waste. In fact, in 2017 they became the first coffee company to incorporate fully compostable packaging into their product line.
Oakland Coffee is also dedicated to giving back to their community by addressing it's greatest and current need. In 2021 their focus has been on supporting local food banks to make sure no one goes hungry.
Bad Ass Coffee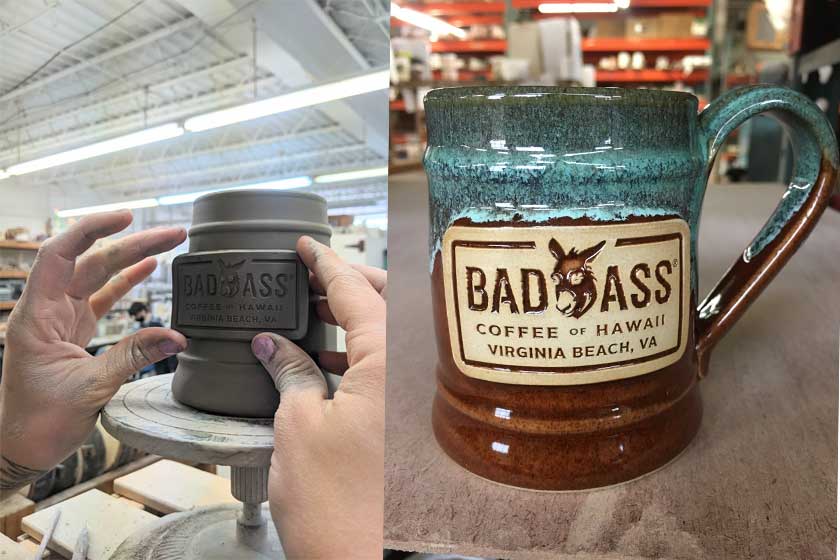 Bad Ass Coffee's mission is to "Spread the Aloha Spirit". Their 'Bad Ass for Good' program is dedicated to giving back to their communities and also thanking the people who keep us safe and free, our American soldiers.
Buy a bag of coffee for an active soldier through their "Cup O' Joe" program or support a donkey rescue organization during International Donkey Week in June.
How does your business give back?
Creating programs in your business that give back not only feels good, it sends a message to your customers that you care. Many consumers today seek out companies that have social responsibility in place and are loyal to those brands. We hope that the companies shared here have given you some inspiration on giving back. 
You will find more ideas on how to stand out by making difference in your community on our blog, but here are a couple of our favorites: 
Donate your merchandise for raffle or gift baskets that support local charitable fundraising events
Support schools and church fundraising with a day of donations when their supporters purchase at your store
Dedicate a portion of your profits of merchandise sales to a local food shelf
Use stoneware coffee mugs in house or start a mug club that encourages reusable rather than disposable mugs
We'd love to hear what types of charitable and community building work you have incorporated in your business. Contact Grey Fox Pottery if you'd like a quote for custom logo mugs that can support your fundraising efforts.