Standing out as a small business isn't easy. Whether you're promoting your brand in house or online, choosing unique merchandise that showcases your branding elements is an essential way to stand out from your competitors.
Here are tips, some conventional and some unconventional, that would help them be ahead of the curve for merch trends.
Let's start off with the essentials:
Apparel
T-shirts, hoodies and hats are an essential part of any promotional product arsenal. Make these items fly off the shelf by opting for quality fabrics and materials that will stand up to everyday use. 
Another tip to help sell your branded apparel items is partner with local artists to create custom artwork that implements your brand elements and offer them as limited time releases.
Drink accessories
Can koozies
Most beer is better cold, right? Make sure your patrons have the chance to show off your brand at home and on the go with a logo can koozie. Make yours stand out by choosing eco-friendly options, like wool or recycled materials or up your koozie game by diversifying your selection to include sizes for crowlers and slims.
Coasters
A really useful branded merch item will be something that is used often and actually helps your customer. Coasters are a great way for them to incorporate your brand in their home or office every day. There are some very beautiful options that can be customized with your logo, including slate and cork.
Bottle openers
The great thing about bottle openers? Most people need more than one!
Bottle openers are affordable enough as giveaways and for people who want a token of their visit to take home without a large budget.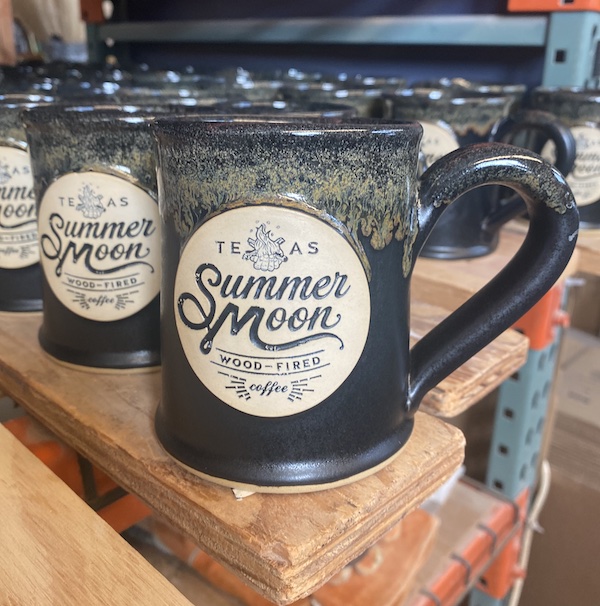 Handmade mugs
Of course your coffee shop or brewery must have branded drink ware to sell. Offering a variety of options, like economic glass pints, travel tumblers, ceramic mugs and insulated thermoses are a given, but have you considered expanding your collection to handmade mugs and beer steins? 
Our bounty of glaze colors and combinations make customizing your logo mug easy to match your branding. We see many breweries and coffee shops use the handmade mugs as part of their in-house mugs and mug club member limited editions along with a retail merchandise open for purchase by any customers.
Just for fun
Bumper stickers
"I brake for beer"
"Coffee…because adulting is hard"
There are a lot of clever ways to get your message out there by way of bumper stickers and window decals your patrons would be proud to display on their cars. Plus, you'll have a traveling billboard. Stickers of all kinds also make cheap and easy free giveaways when you need them.
Cooking and crafting at home
If you have a cafe or brewpub that serves delicious fare, an apron for use at home may be a great type of merchandise offering for your customer. Pair it with a cookbook filled with your local favorites and make it the perfect gift bundle!
Don't serve food but serve a mean cocktail? Create a small drink recipe book with some of your signature drinks and throw in a shaker and jiggers to complete the bundle.
Does your coffee shop roast its own beans for retail? What could be a better companion than a ceramic coffee canister with your logo on it to keep beans fresh! Make your coffee canisters beautiful enough to keep on the countertop at home for all of their houseguests to see.
Tips for selling merchandise at your shop
Great merch goes a long way in selling itself, but you'll need to help push sales in store and online to get it to constantly move off the shelves. Here are a few ideas we've found that really work for our customers.
Mug Club Member-only sales
Mug clubs aren't only a great way to build loyalty for your brewery or coffee shop, they also give you the chance to get in front of your customer more often and upsell by offering member-only discounts. Give your members special discounts on merchandise during certain days of the week or on their birthday.
Reusable mugs
Promote your mug sales by offering discounts for those that bring-their-own-mug to your establishment. You'll not only be selling a mug or thermos, you'll be helping reduce the use of in-house and disposable cups.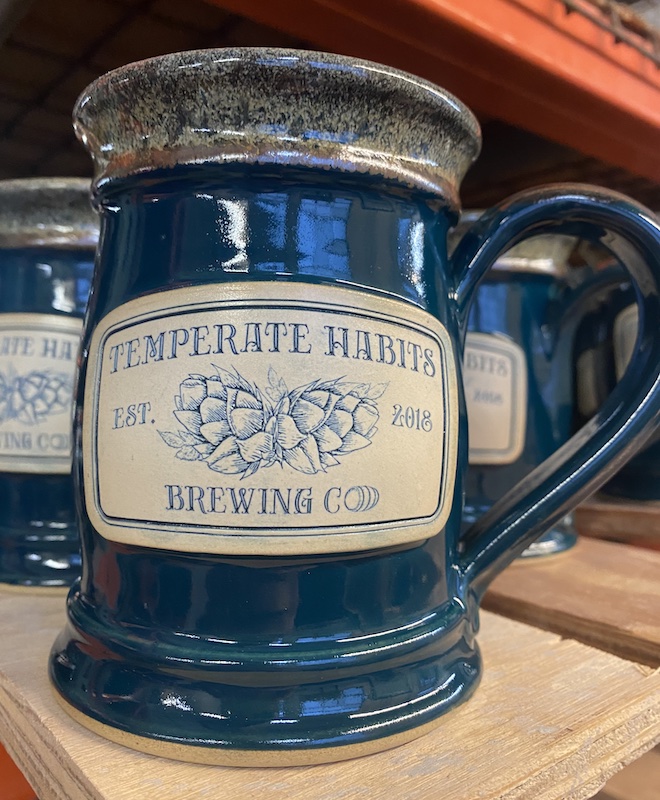 Bundles
Show your patrons you want to offer them a good value on your merchandise and be a helpful partner in putting together giftable sets. Here are some popular combos to try:
Coffee beans and mug
Cookbook and apron
Cocktail recipes with shaker
T-shirt and bottle opener
Hat and can koozie
Eco-friendly
According to a recent survey by Advertising Speciality Institute, 46% of consumers favor companies that offer promo products that are environmentally favorable. Show your patrons that you care by offering merchandise that helps save waste or benefits environmental groups with donations of portions of sales.
Get out from behind the bar
Now that you've got great merch, get it out from behind the bar. We see quite a few businesses keeping their retail items behind a counter, which acts as a barricade between your patron and your merch! Want more ideas? Check out these 8 ways to make your beer merch stand out.
People want to touch and feel items before purchasing and giving them the freedom to do that without having to ask for permission will help boost in-store sales.
Having a mix of items in different price ranges means you'll appeal to just about any type of buyer and make getting your brand in their hands easier. If you're considering adding handmade mugs to your retail line up, take a look at the many varieties of beer steins and coffee mugs that Grey Fox Pottery offers. Our pieces are noted as collectibles by many purchasers and end up being used for many years due to their beauty and durability, plus they are dishwasher and microwave safe!
Contact us if you'd like to take a look at your artwork on a custom mug for your business.