We at Grey Fox learn something new everyday!
Bryan McShane, a satisfied Grey Fox customer and a leader in the Aspen Ruggerfest explains to us just what the heck a Ruggerfest is:
"Aspen Ruggerfest was started in 1968. It is a rugby tournament which is attended by 26 to 36 teams. It has a Men's Division , a Masters Division, Over 45s bracket and an Over 50s bracket. It also hosts a Women's competition/exhibition,and Juniors ( under 19s) competition. Teams come from all over the USA and the tournament is often attended by foreign teams from both the northern hemisphere and the southern hemisphere. The tournament tries to attract competitive teams that play the best standard of club rugby.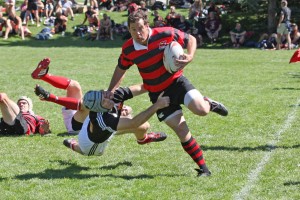 Aspen Ruggerfest takes place every year on the third weekend of September. In 2016 the dates for the tournament will be September 15-18. The four day tournament starts on Thursday when the over 45s and over 50s play. Friday sees the Masters in action, Saturday the Men's, juniors and women's open. On Sunday all finals are held. The tournament is held on both Rio Grande field and Wagner Park in the heart of Aspen Colorado. While not only being well-attended by locals from Aspen and from up and down the Roaring Fork valley, it also attracts fans from all over the world. It is one of the great party weekends in Aspen.
This year we had 30 teams attend. The host team, the Gentlemen of Aspen beat the Goslings sponsored Dark and Stormy Misfits 52-21 in the final game on Sunday in the Men's Open Division. Other winners in other divisions included the select sides – the Virginia Cardinals, the Dark and Stormy Misfits and the Colorado Wild ( the women's team). The perfect weather for the whole weekend meant Wagner Park was lined three-deep with fans most of the weekend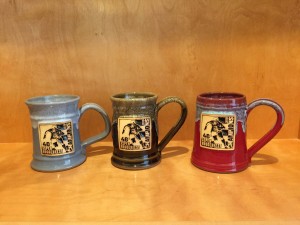 It has been a tradition since the beginning that players from winning teams receive ceramic mugs as a souvenir of their winning efforts. This year Grey Fox pottery provided the custom mugs for all but one division. The players appreciated their custom made beer steins and carried them with pride throughout town on Sunday night, drinking out of them as is tradition!
For more information on this past Aspen Ruggerfest please go to www.aspen-ruggerfest.com. Starting November 15, information on Aspen Ruggerfest 2016 will be available."