After finishing a long, hard day of work, there's nothing more relaxing than heading to a local brewery and enjoying an ice-cold beer in a solid beer stein. Gorgeous stoneware pieces that are significantly more durable (and stylish!) than your average beer glass or mug, beer steins offer every drinker a unique experience while enjoying their favorite brew. Recognizing the magic that custom beer steins can bring to your business or brewery by enhancing your customers' experience is more than good marketing, it's great beer drinking! 
First Things First
To make the most of your investment in customized beer steins, you need to understand not only what beer stein type and design will best serve your specific establishment, but also how to thoroughly clean your handmade stoneware to optimize shelf life and ensure your customers get to enjoy many more brews down the road.
How Our Beer Steins Are Made
At Grey Fox Pottery, we're passionate about fashioning handmade pottery and supporting the careers of talented potters. For this reason, each beer stein we make is hand crafted in the U.S. by an experienced artist. Molded from a sturdy and durable clay, our ceramic beer steins are twice fired for strength and durability and meant to stand up to years of everyday use.
We also work with our clients to create custom clay medallions that show off their logos in the best way possible for this medium. Some designs—namely simple, rounded shapes with a good balance of black and white space—translate effortlessly. Other designs with irregular borders or an uneven mix of shading take some manipulating. But in the end, the Grey Fox Pottery team always comes up with the ideal design to showcase your logo. 
Located in a thriving arts district in Minneapolis, Minnesota, our team is small enough to offer unique, custom mugs to mom-and-pop coffee shops and local brewpubs, yet large enough to fill the high demand needs of tourist attractions or favorite drinking spots, where custom mugs are seen on every table.
Finding Your Ideal Beer Stein
Just like wine glasses are designed to bring out tones and flavors in distinct types of wine, different beer steins are designed to showcase specific drinks. For example, our Bavarian stein features a relatively wide base that slowly tapers toward the top, encouraging swirling of the beer inside which releases the beer's aromatic compounds, enhancing smell and flavor. This design is perfect for wheat beers, which don't give off a strong aroma. At Grey Fox Pottery,  we offer twelve different stein varieties, each painstakingly designed and sculpted to highlight various aspects of different beers. No matter the type of beverages served in your restaurant or brewery, we're eager to support your business by providing quality steins to highlight your drinks. Not sure which design is right for your brewery? We've got a handy guide that can help you choose the best beer stein for your needs. 
Caring For Your Handcrafted Stein
Once your brews are being served and savored in the ideal stein style, you're going to need some insight into the cleaning process. Proper storage and cleaning of your steins is crucial to keeping them in tip-top shape. 
In addition to being food-safe, all of our mugs and beer steins are dishwasher and microwave safe. However, if your steins have an O-ring or pad on the bottom, designed to minimize stains by helping the mug avoid direct contact with tabletops, we recommend washing them by hand. This preserves the integrity of the cork and minimizes any deterioration or peeling that could otherwise occur in a dishwasher.
If you're struggling to remove stubborn stains from your steins, try creating a simple paste of baking soda and water, and apply this mixture to your stein with a firm sponge. Since our mugs and steins are glazed to seal in the colors, this won't damage the stein's integrity, but you'll be amazed at the difference some gentle scrubbing can make! 
What Sets Grey Fox Steins Apart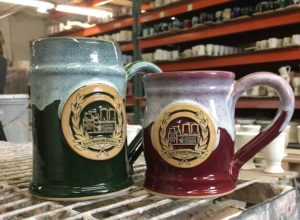 Not only do we offer custom steins designed to hold anywhere from sixteen to twenty-four ounces of liquid, but every single beer stein we produce is unique! From the ability to affix your branded medallions to every mug to our many glaze variations, your customized beer steins can colorfully represent your brand to every customer who handles them. Adding to the ease of working with Grey Fox Pottery , our minimum order size is just 48 pieces, allowing you to try out different styles without eating away a large chunk of your marketing budget. A minimum order can include 2 style choices and 2 colors allowing  color and design options, allowing you to test out which design or style of mug your customers like best. 
In addition to our fantastic design flexibility, our steins are incredibly sturdy and easy to clean, making them the perfect workhorse for your establishment. Due to heavy use, beer steins require frequent cleaning. While a lesser-designed mug might crack (literally) under pressure, you can rest in confidence that your Grey Fox Pottery steins are always up to the job—and the cleanup afterward.
Find Your Superior Stein at Grey Fox
Have more questions about caring for your customized beer steins? Don't hesitate to contact Grey Fox Pottery today. Whether you seek advice, support, or simply want to share how much our beer steins have added to your business, we can't wait to hear from you!