A person's style says a lot about him or her. From hiking boots to tennis shoes, blue jeans to tailored suits, what people wear serves as a visual representation of their story, message, and style. In the same way, the glaze style and color of the custom stoneware used in your brewery or coffee shop say quite a bit about your brand.  –
Whether they showcase your logo, complement your color scheme, or simply highlight the delicious beverages you serve, mugs matter. Are yours telling the most beneficial story for your brand? Here's what you need to know to make an informed decision. 
Glazed to Perfection
Choosing to integrate handmade steins or mugs into your beverage service or merchandise offerings already makes your business stand out. Multiply the effect by adding the perfect glaze style and color to complement your business, and you're set with unique, branded merchandise. 
Is your style edgy? Black and red glaze with a glossy finish adds the perfect punch. Do your beverages offer customers a moment of quiet peace in the middle of a hectic day? Periwinkle  glaze keeps the good vibes going by encouraging tranquility with every sip. Get the idea? Here's a quick overview of the potential colors and styles just waiting to grace your business. 
Our Glaze Colors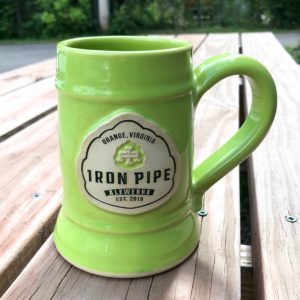 When you're craving a new look, a sleek haircut or fun wardrobe update is an easy way to elevate your style. You deserve a personal refresh every once in a while, your mugs do too! If your current mugs leave something to be desired, we can help! With over 100 mug glaze colors available, you're bound to find the perfect fit for your brand. From brilliant reds and blues to soft purples and deep blacks, your dream color is just a few simple choices away. 
Whether you decide that a single statement color would draw attention to your coffee shop logo or choose a two-tone color combo, our team of talented Minneapolis artists is standing by, ready to get glazing!
Our Glaze Styles
If understated quality is your goal, Grey Fox Pottery's satin glaze offers a flat, non-reflective seal that allows the brilliant glaze colors to shine through without competition. If you want the sun to catch and highlight your mugs at every angle, our glossy glaze will be your new best friend. Both of our high-quality glazes draw attention to the quality of the mugs and highlight your custom medallion, so you really can't go wrong!
Picking the Perfect Hue
When you're presented with dozens of different options for anything, it can be quite difficult to make a decision. Here are a few things to think about when choosing a glaze color and style for your handmade mugs or steins.  
Your Brand Personality
When you hear "Nike" or "McDonald's," you probably also think of those companies' famed logos—the simple swoosh and golden "M." What comes to mind when you consider your business? A particular color, mood, or feeling? Be sure that whatever mug color you choose fits your brand's personality. 
Potential for Name Recognition
Will every beverage ordered at your coffee shop or brewery be served in a custom mug? If so, the potential for brand recognition and expansion (hello, Instagram-worthy shots!) means all eyes will be on your mugs or steins. Strategically choosing a glaze color and style not only communicates your brand personality, but also allows customers to spread the word about your shop through social media. The more attractive your mugs are, the more likely they are to grace the feeds of social media profiles everywhere. Does the glaze color you're considering invite consumers to promote your brand for you?
Providing Real Value
When it comes to branded merchandise, many companies are under the impression that bigger and bolder will always leave the best impression. However, the real point of offering custom branded coffee mugs or beer steins is to offer customers something that they will really use and find valuable. Which glaze color and style do you think your customers would be most drawn to? Or, when you make your coffee in the a.m., which mug do you reach for, and why? How can you adapt that style and make it your own? 
Stand Out With Custom Branded Stoneware
We hope this info helps narrow down which glazes style and color would best represent your brand. Still feel like an expert opinion would help in determining the perfect look for your stoneware mugs? We've got you covered.
At Grey Fox Pottery, designing the best custom stoneware for your needs is our first priority. Whether it's a fresh new color, an updated glaze style, or both, our team is eager to help you design coffee mugs or beer steins that will make your brand shine. Contact us today for a quote or more information!