Think of a time when a random person or experience made your day. It could be the man in front of you paying it forward by purchasing your morning caffeine boost in the drive-thru, a stranger holding the door when you had your hands full, or even a perfectly-timed hug from a friend. At Grey Fox Pottery, we understand that the little things can make all the difference—which is why we offer multiple different shapes and glazes of custom mugs, giving you the ability to nail those little details. 
From tavern coffee mugs to pedestal mugs, every mug style has the potential to bring a unique touch to your coffee shop, roastery, or restaurant. But offering more than one style can really set your small business apart in terms of atmosphere, quality, and merchandise selection. You might be wondering if it's really worth the cost and hassle to order and offer multiple mug choices. Hear us out.
You Can't Please Everyone—Or Can You?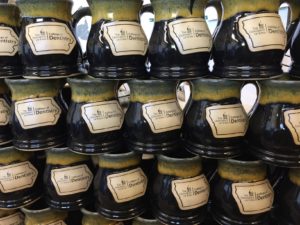 The concept of variety is appealing for many reasons. Consider a popular restaurant and its menu. Although that restaurant might have an overarching theme or serve a lot of one type of cuisine, they offer many food choices under that bigger umbrella. Offering a variety of coffee mug styles gives consumers more ways to support your brand. If you offer several colors and styles of mugs for sale instead of providing just one choice, you increase the odds of every visitor finding a mug that speaks to them.
To make your mug varieties a more significant part of a marketing strategy or campaign, consider driving increased customer engagement through a loyalty program or seasonal and location-specific mugs. Starbucks serves as a great example of this type of marketing. The company's "Been There" mug collection is excellent inspiration for any coffee shop. By offering a variety of mugs designed explicitly for differing store locations, they keep consumers coming back to grow their collection—strengthening the brand in the process! 
Programs like Starbucks' aren't just for big brands. With time, dedication, and the fantastic customer base you already have, it's possible to build brand awareness while offering your customers something different. 
Our Case for Multiple Ceramic Mug Styles
Still not convinced that offering multiple mug styles is the best move for your coffee shop? Here are a few more reasons that might make you decide it's time to diversify your selection of drinkware. 
Highlight Your Best Features
Did you know beverages can seemingly taste different depending on the mug they're served in? This is thanks to the psychology of food perception, or the idea that information received from one of the five senses can affect the others. For example, the color of a coffee mug may change how sweet or bitter the roast tastes to a person. 
Consider the glaze style or color of the mugs currently used or sold by your brand. Are they working to highlight the desired elements of each of your beverages? If not, offering more than one style of mug might not only provide consumers more personalized choices; it might also better complement your menu.
Play to the Camera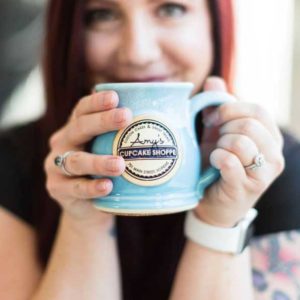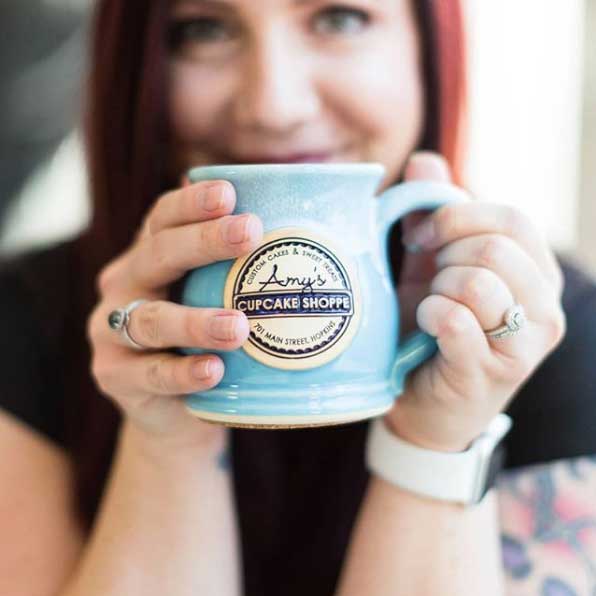 When scrolling through Instagram's Explore page, it never takes long to come across photos of mochas and lattes attractively displayed in house coffee mugs from various coffee shops. While it's undeniably convenient to serve specialty drinks in to-go cups, it's vital to also carry personalized stoneware mugs for customers seeking to enjoy their drinks and stay awhile. From large, hand-filling, soup-style mugs to more traditional designs, think through your menu and ensure that you carry mugs in all the sizes and styles needed to do your drinks justice. You'll find customers much more likely to post about—and bolster—your business!
Add Ambiance
Cultivating a specific atmosphere in your shop means you have to make some design choices, which can involve anything from the signs you display in your windows to the kinds of mug you choose to fill with coffee and other drinks. Consider the vessel that holds your brews. By utilizing stoneware coffee mugs with your business' logo front and center, you can enhance your customers' experience and keep your brand at the forefront of their minds as they enjoy their drink. And if you're looking to give your coffee shop a more eclectic feel, a mismatched collection of branded stoneware mugs is the perfect starting point.
Find Your Perfect Mug(s) With Grey Fox Pottery
At Grey Fox Pottery, we're well-versed in the art of crafting the perfect coffee mug, and we know that not all mugs are created equal. When it comes to your coffee shop, no average mug will do your beverages justice. Our stoneware coffee mugs are an ideal way to highlight and serve a variety of drinks, amp up the ambiance, and drive new business to your coffee shop. Handmade by talented American artists, our pieces are more durable and resistant to chipping than inexpensive, conventional imports. With a minimum order size of just 48 pieces and a wide variety of glazes and mug styles to choose from, your choices are practically endless. And yes, you can order two mug styles in the same order! Give us a call today to find out more about our quality stoneware.