Whether you're stockpiling presents for next year's birthdays or shopping for holiday gifts for the coffee lover in your life, finding the right present can be a challenge. From the 5 a.m. coffee chuggers to the 2 p.m. slow sippers, everyone has a preference regarding how, when, and where we like to get our caffeine kick. 
While every coffee lover will appreciate a caffeine-related gift, you want to be confident that you're wrapping up a surprise that your loved one will genuinely adore. If you're struggling to find the perfect gift for your upcoming occasion or want to confirm that you're on the right track, we've got you covered. 
Know Your Love Languages
Different people prefer different types of gifts. A great way to help narrow down which of the below gifts is the best fit for your recipient is to know how they prefer to be "loved." Many people believe there are five primary ways people like to receive affection. In addition to being useful for romantic partners, love languages are also helpful gift-giving tools. Some people prefer gifts of time (shared tickets to a sporting event) or words of affirmation (a thoughtful card). Others appreciate acts of service (hitting the Starbucks drive-through for them), touch (a warm hug), or material gifts (a handcrafted stein from their favorite brewery). If you know what type of gift would mean the most to your intended recipient, it becomes easy to find the ideal present.
Finding the Best Gift for Every Coffee Lover
In addition to knowing what kind of gift will leave the most significant impression on your loved one, it's vital to understand what caffeine-lover category they best fall into. While the below is only a shortlist of some of the many types of coffee lovers, we hope you find it helpful in your search.
For the DIYer
Some caffeine drinkers prefer to hit a drive-through on their way into the office. For others, preparing a cup of morning joe is an integral part of their daily ritual. These gifts are perfect for those coffee drinkers who like to make their own brews.
A Subscription for Their Favorite Beans
Countless subscription options are now delivering high-quality coffee beans directly to the doorstep of your loved one. Find one that fits their roast preference or region for an extra personal touch.
A Pour-Over Coffee Maker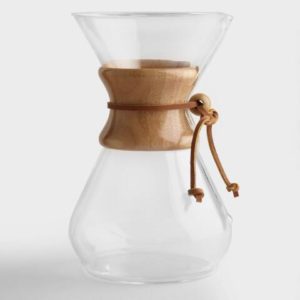 The Chemex Coffee Maker is our pick for a pour-over coffee maker, delivering delicious coffee free from ground reside or bitterness. But it's also just one of many options, so pick out a style and color that will earn this tool a place of honor on the counter.
---
A Manual Bean Grinder

This manual coffee grind crank can be screwed on to any standard mason jar, allowing anyone to grind coffee beans to their desired fineness. 
---
For the Sweet Tooth
Some people like a little coffee with their cream and sugar. For those loved ones, these sweet treats will make the perfect gift for any occasion.
Their Flavored Syrup of Choice
Torani makes a wide variety of flavored syrups—including sugar-free options—used by many major coffee houses, but they can also be purchased for at-home use. 
Portable Vietnamese Coffee Packets
These portable packets can transform an average cup of coffee into a delicious treat, allowing your loved one to enjoy the wonders of a gourmet coffee shop from within their own home.
Dark-Chocolate Covered Espresso Beans
Even non-coffee drinkers will enjoy snacking on chocolate-covered espresso beans. Pick up this bag if you're looking for a stocking stuffer or a fun gift for an acquaintance.
For the Connoisseur
For the coffee lovers in your life who can tell a French Roast from a Columbian in a heartbeat, no ordinary gift will cut it. These options will allow them to broaden their coffee knowledge and increase their expertise.
A Sleek French Press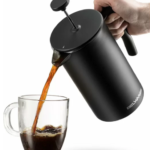 Allowing one to choose the strength of the coffee produced, this matte black french press coffee maker is a sleek addition to any coffee expert's nook.
---
Tickets to a Private Coffee Tasting
Allowing them to hone their already-exquisite palates, tickets to a coffee tasting will be appreciated by any real caffeine expert.
An Espresso Machine
The elegance provided by one of these home espresso machines will allow any coffee aficionado to make their own handcrafted beverages with ease.
For The Loyal Clients
For business owners, giving gifts can be tough. Take the guesswork out of your holiday season or special event by gifting your clients with these tried-and-true favors.
Custom Coffee Mugs
Gifting branded, stoneware coffee mugs are the perfect way to recognize your clients' loyalty and thank them for their continued support. Additionally, don't discount the value of having your logo where they can see it!
Giftcards
A gift card to a local coffeehouse, especially one with a rewards program, is a great way to support small businesses and give back to your clients.
Add the Perfect Finishing Touch to Any Gift
While we hope this gift guide has given you many ideas to help surprise your loved ones, no coffee-related gift would be complete without a branded coffee mug to help your recipient enjoy it. If you love supporting small businesses but want to ensure that you're gifting a high-quality product, consider Grey Fox Pottery. 
Our wide variety of handcrafted, American-made coffee mugs is designed to be the perfect accompaniment to any beverage. With small minimum order sizes, our ceramic pieces are perfect for any business or event. Our team is eager to work with you and find the perfect style for your gifts. Contact us to learn more or start a custom order today.